Europe's largest overhanging pool - Luxury Retail
Clavel Arquitectos reveals longest cantilevered swimming pool in Europe
Clavel Arquitectos has released a film of its founder Manuel Clavel swimming in a 42-metre-long pool that cantilevers from a casino complex under construction in Murcia, Spain.
The swimming pool, which will form part of the Odiseo casino and leisure complex, cantilevers 20 metres on each side of central supports. According to Clavel Arquitectos this makes it the longest overhanging pool in Europe.
Studio founder Clavel Rojo took the first swim in the pool to mark the completion of its construction.
"We looked to the tradition whereby the creator has to test first his own creation". "This is something really imbricated in the pop culture, just think about the crazy scientist that tries some new vaccine on himself."

"Obviously the structure is totally safe but definitely there was some reluctancy to be the first to try it," added Clavel.

"So we thought it was powerful that I was the first to try it – jumping into the pool inn speedos in frozen water, that talks about the way we see life and architecture in my office."
When the building is complete, the swimming pool will be located within an elevated forest that is being built as part of a leisure complex on the outskirts of the town of Murcia.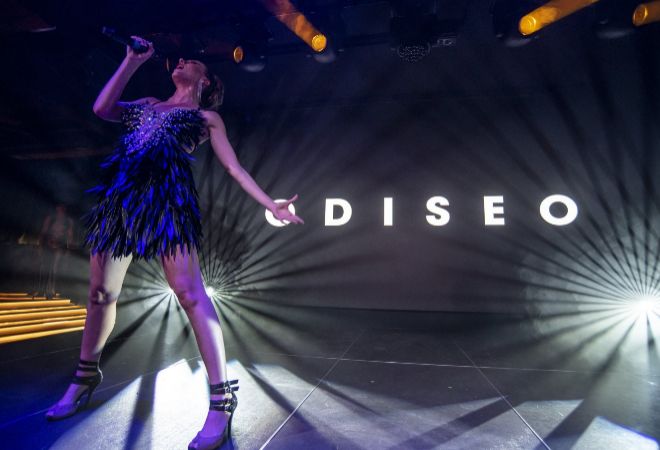 The forest, which will be enclosed by a latticework of pipes to help shade the plants, will stand on top of the three-storey building that will contain a casino, as well as a nightclub and restaurants.
The swimming pool will be part of a raised platform that is cantilevered on either side of two lift cores. According to Clavel, the pool's large overhang was a result of the client making the decision to add it to the project once construction had begun.
"Even though the pool was in the first sketches of the building the client discarded it before we started the detailed design," he explained.

"They only decided to build it when the project was halfway of the construction process. That meant the structure was not ready to resist that new weight, so we came up with the idea of supporting it over the two more rigid existing elements, the stairs cores."

"We strictly reinforced those foundations, not been able to touch the building in any other point. On the other side we clearly had to go through the façade to get views from the pool to the horizon," continued Clavel.

"Once it was clear that it was going to be a very extreme structure we just pushed it a little further, to the limit, producing this really fun experience for the users of swimming in a 20 meter cantilever, second in the world and probably the slimmest as far as we know."

Clavel hopes that the building can bring excitement to the city of Murcia.