Douglas Frankfurt flagship - Luxury Retail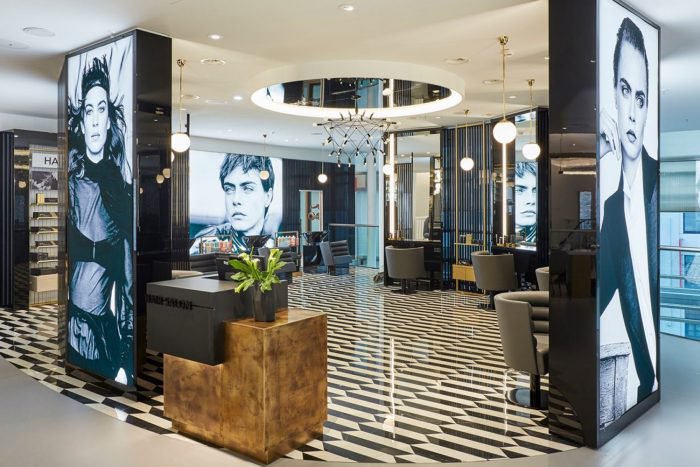 German beauty retailer Douglas has refreshed the retail space at its Frankfurt flagship
Douglas has more than 1,800 stores in 19 European countries. Reconfiguring its retail presence in Frankfurt is part of a wider shift to reshape the way modern consumers shop for beauty products.
Designed by Sheridan&Co, the redesigned store spans five floors, and has been renovated and launched in phases, representing a new strategy for the upmarket brand to rejuvenate its brand identity. The redesign has helped make the brand relevant to the modern consumer, as well as to create an emotionally-led and immersive retail experience that allows customers to connect deeply with the products in store.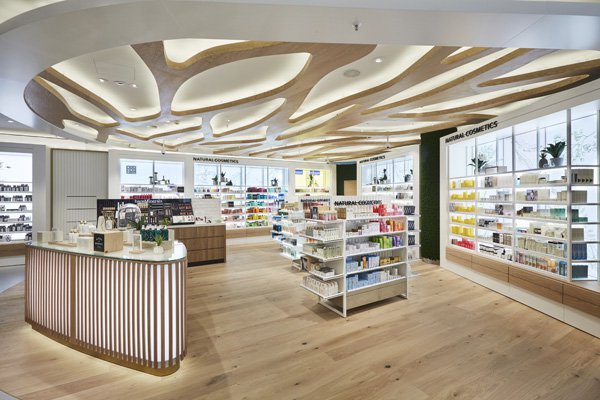 'Douglas is leading the way for the future of retail with a unique environment that uses every opportunity to provide sensory, tactile and educational touchpoints that beguiles the wandering eye to linger, absorb and immerse in a brand world led by Douglas but enlivened by forward-thinking lifestyle brands who understand the importance of theatre and experimentation when it comes to attracting customers,' says Michael Sheridan, chairman and co-founder of Sheridan&Co.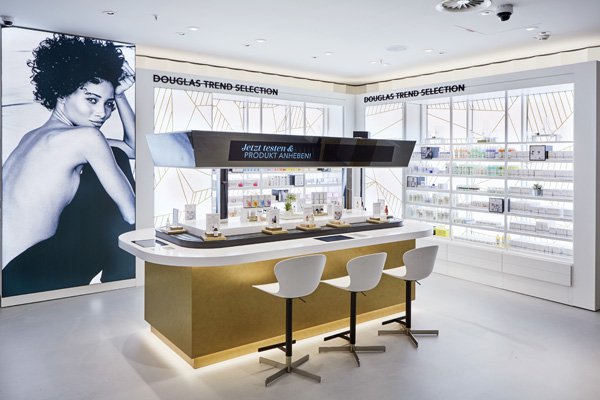 Douglas adopts a 'neo-luxe' aesthetic, melding classic patterns and contrasting materials – from raw textures to refined, from matt to gloss – as well as pops of colour to draw the eye across soaring architectural statements. Clean lines, accents of polished gold against white lacquer and stone, ivory and marble against plush pink, charcoal and the iconic Douglas-mint hue brings these elements of home comforts and luxury to life.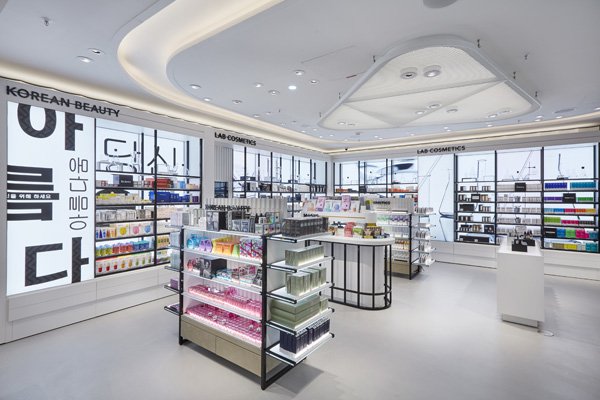 'Every floor has been mapped out to ensure that the Douglas visual identity is elegantly echoed and implied within the touchpoints, without overwhelming the senses. The intention is that these brand activations are individual chapters to the wider Douglas curated story that unfolds across all floors,' continues Sheridan.
A Trends Collection area features an entire wall dedicated to the newest product releases as well as a 'Douglas Exclusives' bay on each floor, showcasing a handpicked selection of seasonal favourites or influencer-approved products, underpinning Douglas' positioning further as curator, trend-spotter and an expert in beauty. This is complemented further by a 'library' of products categorised according to trends: from natural beauty products to Korean beauty – the display highlights up-and-coming brands and the latest fads – all carefully chosen by Douglas for showcasing. Activation spaces like the quick treatment lounge likewise plays host to burgeoning trends in beauty and is centred on excitement, experimentation and learning. Here, brands are able to provide 10 minute mini treatments to deepen exploration and consumer understanding of products and its application to each individual's needs.
On the top floor – Douglas' piece de resistance – is a destination area with a luxury hair salon, makeup school, nail bar, a lounge bar for relaxing and further treatment rooms where customers are invited to try out new, pioneering and exciting beauty treatments from brands carefully handpicked by Douglas not found elsewhere on the high street.
Tina Mueller, CEO of Douglas, adds:
'Consumer appetite for innovation and experimentation in beauty has seen a spate of disruptor brands emerge from obscurity and obtain sizeable fanbases in short periods of time. People are shopping beauty and grooming products very differently; they seek unbiased endorsement, trial and experimentation in order to make purchasing decisions, and the retail space needs to reflect that in order to drive engagement and retain loyalty. Our Frankfurt store has been redesigned with this in mind, with a very experience-led and immersive journey that allows new brands to be profiled and promoted without undermining existing, established and well-loved brands. Agility to change with the coming and going of trends alongside an unwavering empathy with the customer is the future of retail. We are confident that the unique retail space we have developed in partnership with Sheridan & Co will resonate and stand the test of time with today's consumer. '