Christian Louboutin's New Fragrances - Luxury Retail
Christian Louboutin Bikini Questa Sera, Tornade Blonde, Trouble in Heaven
In 2014, shoemaker Christian Louboutin stepped into the beauty space, launching vibrant nail lacquers inspired by the scarlet soles of his famous shoes.
His beauty line then expanded to include super-luxe lip sticks and glosses. And now, Louboutin is fully plunging into the fragrance world, launching three scents at once to make a major splash.
Louboutin and his team created three scents — Bikini Questa Sera, Tornade Blonde and Trouble in Heaven — that don't resemble each other at all.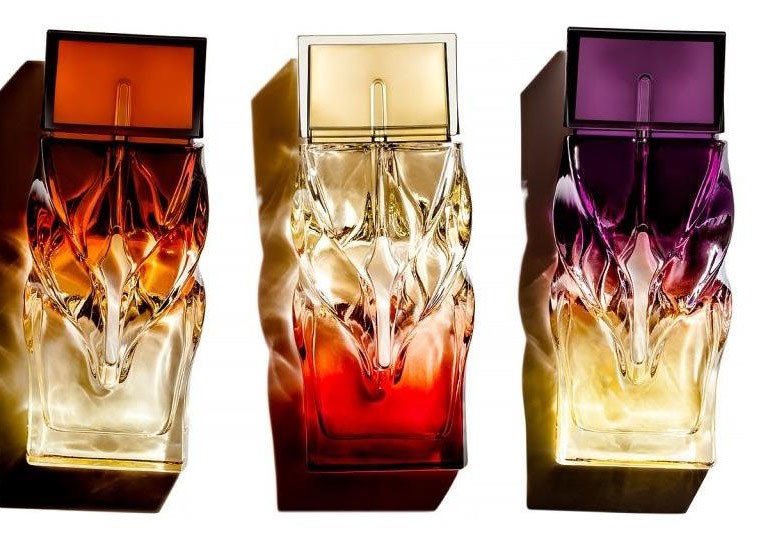 "I wanted to celebrate woman and her desires. I wanted these fragrances to enhance an aspect of her personality, or perhaps reveal something about her that no one knew before, maybe not even her, tell a secret, a story," the designer said in a statement. "In a way, creating these fragrances is like being a film director; some directors want to control the acting process, others want to reveal the power of character and personality. This is what I try to evoke with shoes and now with the alchemy of fragrance. I want to give women the means to express themselves and to delight in their femininity."
Bikini Questa Sera (in the gold bottle) is a light blend of beachy scents, including jasmine and tuberose, while Tornade Blonde (the red one) is a floral mix of rose, sweet violet and cassis. And for those who love warm, sultry notes, Trouble in Heaven (in purple) contains aroma with notes of iris, patchouli and amber.
And it shouldn't surprise you that the design of the bottles was as important to the shoe designer as the scents themselves; "color [was] fundamental to the bottle design; each fragrance has its own symbolic colorway," he says.