Bulgari's New York flagship - Luxury Retail
Bulgari's New York flagship store will steal your breath
Bulgari has opened the doors to their newly redesigned flagship store on Fifth Avenue, and the new space is certainly worth the wait that fans of the brand had to endure.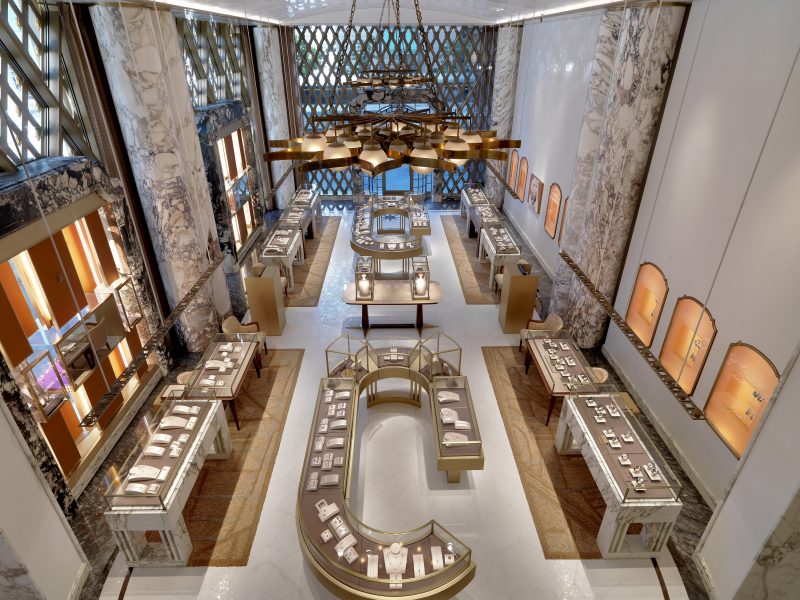 Designedby PeterMarino, the new store is full of stunning elements: from the door -which is a replica of the Baroque Via Condotti door from 1930- to the 1960s Gio Ponti chandeliers which were originally hanging in Parco dei Principi hotel's ballroom in Rome.
"We have a mix of Italian masters of design as well as new modern designs by Peter Marino," said Silvia Schwarzer, the Interior Design Director at Bulgari.

"The chandeliers, were in the Parco dei Principi hotel's ballroom in Rome and were designed by Gio Ponti in 1960. They're original. We also have Gio Ponti furniture. Other elements like the staircase, the pantone mesh featuring the Bulgari eight point star—those were designed by Peter Marino, so the mix of the two is very important for us because we start from our roots but are always looking to innovate," Silvia added.
On the mezzanine floor is a lounge inspired by the Salottino Taylor where Elizabeth Taylor admired jewelry. It is in this room that a selection of vintage Bulgari jewels dating back to the '70s, are displayed.
Meanwhile the brand is also celebrating the launch with a capsule collection of jewelry inspired by New York. The collection uses lapis lazuli, coral and diamonds to pay tribute to the American flag colors.
Bulgari creative director Lucia Silvestri, who created the collection named a bracelet as her favorite item from the series.
"It's almost three-dimensional and it's very soft and sophisticated and it's so New York," said Silvestri. "This kind of craftsmanship is something only Bulgari can do. I really wanted to do something special, but you know it's difficult because even in the '70s we did such extraordinary pieces. Those pieces are still very modern. So I wanted to do something with the same spirit but very contemporary."