BULGARI'S BIGGER HOLIDAY LIGHT - Luxury Retail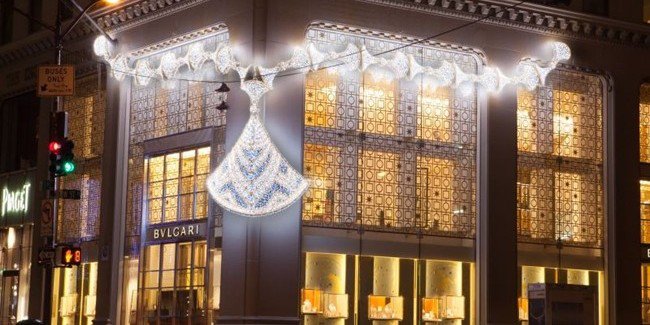 BULGARI'S BIGGER-THAN-LIFE HOLIDAY LIGHT INSTALLATIONS
For the holiday season, Bulgari will light up the night with the brilliance of its spectacular designs, in key cities around the world. Recreating its most iconic high jewelry designs with bigger-than-life light installations, Bulgari literally surrounds its facades and buildings storefronts with the masterful beauty of its Italian creativity.
Represented by thousands of LED lights – entirely hand-made in the spirit of the Bulgari's values – the festive decorations interpret Bulgari's most iconic shapes: the coiling snakelines of Serpenti evoke precious garlands encircling the stores of Moscow, Seoul, Tokyo and Taipei; for the first time also the characteristically seductive Diva motif wraps Paris, New York, and Chengdu in China with a luminous spirit.
Of resplendent seasonal magnitude, the Chengdu installation alone shines with 94.828 individual lights and measures over 13 meters tall, created by a design process that takes a team of engineers and architects 60 days to create and 4 days to set-up. Despite the magnificent result, such a feat has been obtained in an ecologically responsible manner; several years ago Bulgari converted all of its lighting, including holiday lights, into LED bulbs – in order to lower energy consumption and its impact on the environment.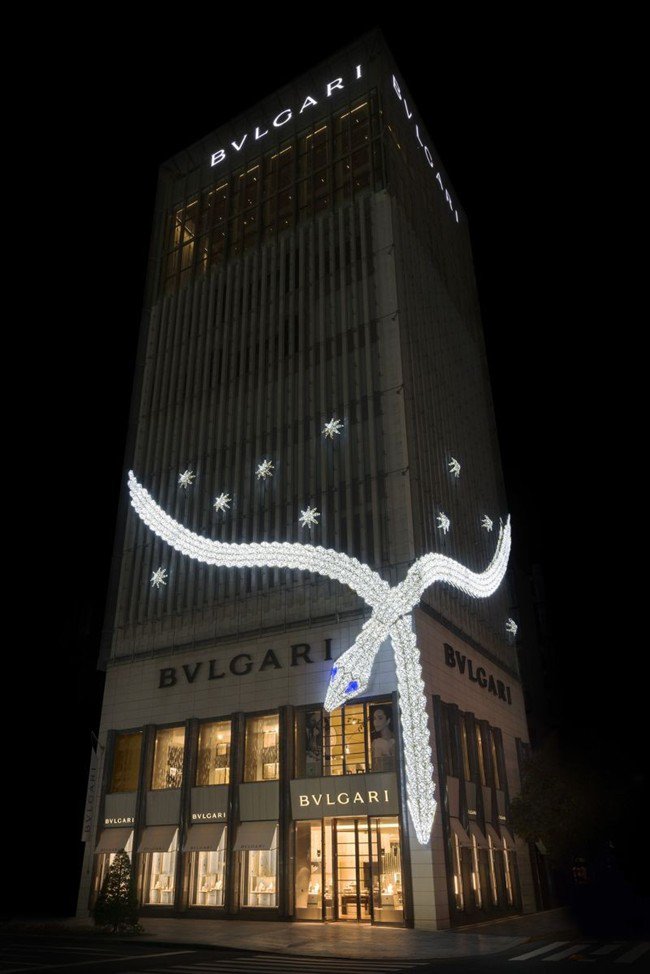 For its homeland in Rome, Bulgari reserved a street-long lighting display, illuminating the prestigious Via dei Condotti with portals that recall its ancestral architecture to brighten the holiday road ahead. At the apex of each portal arch shines an eight-pointed star, the legendary symbol of the four cardinal points – North, South, East and West – as they are united to the two solstices, and the two equinoxes. Representing balance and cosmic order, and closely linked to the concept "Roma Caput Mundi," this symbolic eight-pointed star stands centred on the floor at Bulgari's flagship store, with sister stars decorating Bulgari boutiques around the world.
Within the Via dei Condotti store windows – and in all the 300 store windows worldwide – this star twinkles anew, joined by beautiful Bulgari constellations – the Snake to echo of the seductive Serpenti collection, the Peacock constellation to interpret resplendent Diva, and the Lion to recall the audacious spirit of B.zero1.