BRIC limited-edition by Qatar Airways - Luxury Retail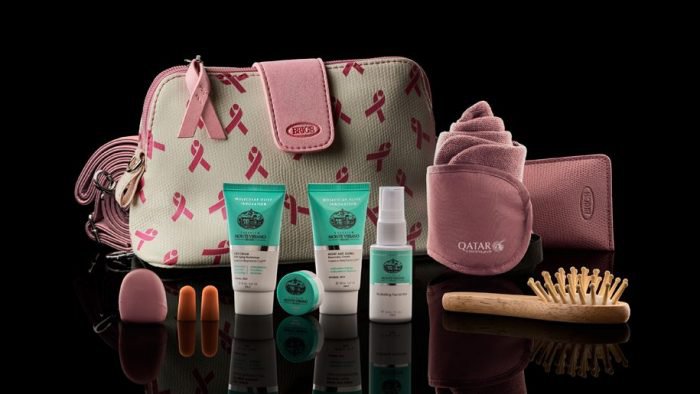 Qatar Airways to offer pink-themed limited edition amenity kits in a bid to support Breast Cancer Awareness Month
Qatar Airways customers travelling on long-haul flights in first class and business class can get limited edition pink themed amenity kits during the month of October.
The introduction of the special amenity kits marks the airline's annual support for Breast Cancer Awareness Month, an international health campaign organised by major breast cancer charities every October to raise awareness of the disease and to raise funds for research.
The amenity kits, made from vegan leather by Italian travel bags manufacturer Bric's, are available in two colour options: a white kit with the iconic breast cancer pink ribbon prints for female passengers, and a charcoal grey kit with pink accents for male passengers.
Both kits feature a unique zipper pull in the shape of the breast cancer ribbon, and each has a message imprinted on a band that reads "Support the flight & think pink".
The amenity kit for business class passengers contains socks, ear plugs and skin care products from Italian olive oil company Castello Monte Vibiano Vecchio, including lip balm, hydrating facial mist and anti-ageing moisturiser.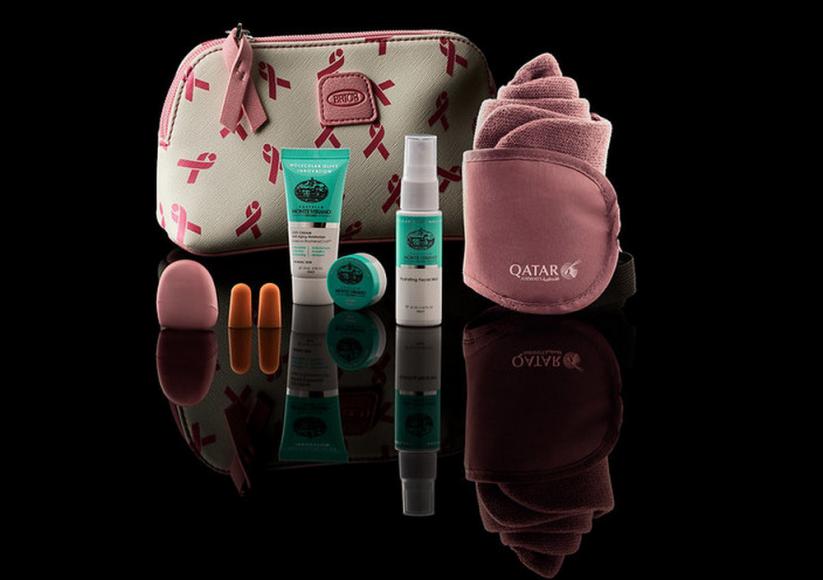 Meanwhile, in addition to the same products mentioned above, the amenity kits for first class customers also include an additional night recovery cream and Bric's signature eyeglass pouch.
Both first class and business class amenity bags for female passengers feature all pink-coloured socks, eyeshades and ear plugs, while those for male passengers feature the same items in grey tone.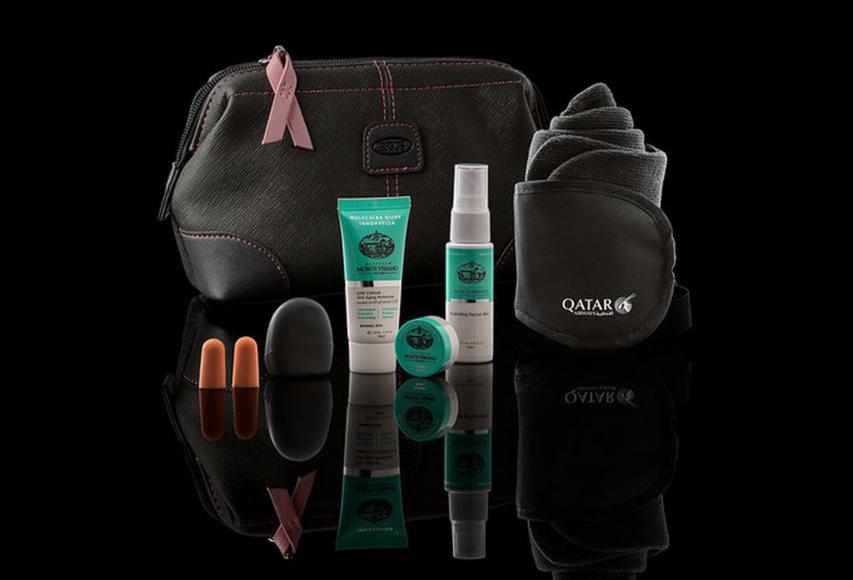 Economy class passengers travelling on overnight long-haul and all ultra long-haul flights are also offered limited edition breast cancer awareness amenity kits. The bags feature pink ribbons and include eyeshades, socks, ear plugs, lip balm, toothbrushes and toothpaste.
Akbar Al Baker, Qatar Airways Group chief executive, said: "Qatar Airways is devoted to raising awareness on the importance of breast cancer, and will continue to highlight the significance of Breast Cancer Awareness Month by offering very special BRIC's luxury amenity kits to passengers in First Class and Business Class. Our annual campaign aims to increase the number of supporters who are dedicated to tackling breast cancer and creating positive change worldwide."