Boucheron, Serpent Bohème collection - Luxury Retail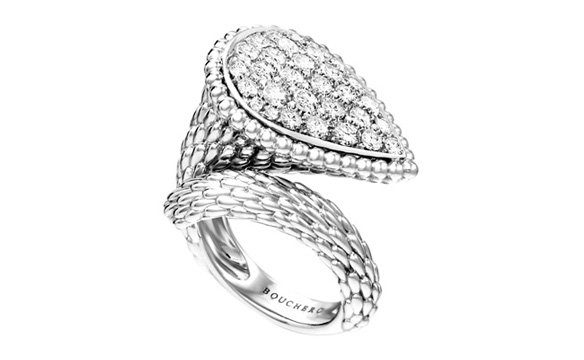 A hopeless romantic
The Serpent Bohème collection symbolizes the serpent and its graceful movements in the form of an eternal tear drop. The line consists of twenty pieces; rings, bracelets, watches, earrings and pendants. "It celebrates the Bohemian lifestyle, showcasing jewels that voyage across time and borders, just like Frédéric Boucheron and his many expeditions".
 The beautiful love story
Founded in 1858, the House of Boucheron was the first French luxury jeweler to establish its home in the opulent Place Vendôme next to the Hôtel Ritz. Until recently, Boucheron was the only maison whose ateliers looked out onto the grand square.
A hopeless romantic, its founder Frédéric Boucheron, would travel to the ends of the earth in search of the most beautiful, rare stones. Mr. Boucheron's love and adoration for his wife was a powerful force in his quest for the perfect jewels. Innovation and excellence define the visionary approach to the maison's exquisite designs. The love story between Frédéric and his beautiful wife Gabrielle play a defining role in the stunning pieces and the story behind them.
In 1888 it was the couple's crystal wedding anniversary, so one night before Frédéric left on one of his many adventurous trips; he gave Gabrielle a necklace in the shape of a serpent as a token of his love. He vowed it would protect her while he was away. Not long after, in a beautiful tribute to Gabrielle, the first Serpent collection was born in 1968. The collection represented eternal love, protection and happiness. The serpent gracefully protected Gabrielle's neck in a style that would become iconic to the house.

""True to this culture of elegance, modernity and savoir-faire, Boucheron has been established as the jeweler of light, in the City of Light for over 150 years." This is a must see collection and a celebration for the Year of the Snake!"