Objets Nomades for Louis Vuitton - Luxury Retail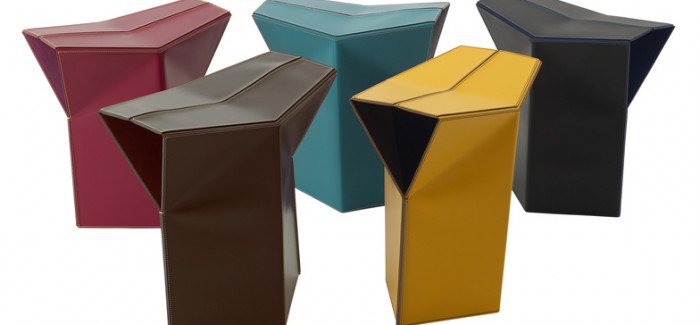 Louis Vuitton announces Objets Nomades, a limited edition collection of foldable furniture and travel accessories produced in collaboration with leading international designers.
DesignMiami unveiled the Objets Nomades collection
16 piece travel-inspired line by 11 notable designers and studios, including Christian Liaigre, Edward Barber and Jay Osgerby, Fernando and Humberto Campana, and Oki Sato of Nendo.
The designers were asked to come up with portable objects inspired by Louis Vuitton's signature luggage and travel accessories. Fernando and Humberto Campana created a hanging travel cabinet made from leather offcuts from Louis Vuitton's workshops. 
Maracatu hanging travel cabinet by the Campana Brothers
The name Maracatu comes from a dance, a ritual dance from Brazil. They use wigs and clothes with stripes of cloth, and they twist to make this movement." Inside the travel cabinet are shelves and a light, and it also comes in a more minimal brown leather version without the swinging tassels." -Humberto Campana. 
Hammock by Atelier Oï
Swiss design trio Atelier Oï used long strips of leather and gold rivets to create a hammock inspired by the pinched shape of pasta ribbons.
"When you are playing with the material you find these references, and you find also the solution. We saw that it was interesting to squeeze the leather to create the three-dimensional structure, and to create the comfort and the volume of the object." -Patrick Reymond.
They also created a folding stool with a thin sheet of aluminium between its leather exterior, allowing it to be packed flat and opened out into a sturdy seat.
"Just with a cut we can create a channel, so we don't have any added elements," -Reymond, explaining that it was inspired by the origami shapes of a Hussein Chalayan skirt. "You can fold it and go to the third dimension in one movement," added designer Aurel Aebi.
Lamp by Edward Barber and Jay Osgerby
Another item in the collection is a glass bell lamp by British designers Edward Barber and Jay Osgerby, which is held in a leather carry case. The lamp is solar-powered but can also be charged via a discreet USB port at its base.
The collection launched at Louis Vuitton in Miami's Design District
French designer Christian Liaigre produced a portable travel desk in sycamore wood, leather and aluminium, which folds up into a small briefcase form.
Japanese studio Nendo contributed a lamp made from a curled piece of perforated leather and backlit by LED bulbs.
Spanish designer Patricia Urquiola created a stool that unfurls from a handbag, inspired by Louis Vuitton's Monogram flower pattern.
Encapsulating the spirit of travel synonymous with Louis Vuitton
The travel desk, stool, hammock and lamp are all made using beautiful nomade leather and have portability at the core of their design. The pieces reference Louis Vuitton and his son Georges' original bespoke travel commissions from the 19th Century, such as a trunk replete with a folding horsehair mattress for a trip to the Congo, or a trunk with a pull-out desk and a typewriter station. This bespoke service has been reinterpreted for the 21st Century to create a selection of collectible design items that are both beautiful in their form yet also functional in their design.
To create the collection Louis Vuitton has tapped into a pool of design talent. Founded in 1991 in Switzerland by the Neuveville trio Aurel Aebi, Armand Louis and Patrick Reymond, Atelier Oï is an international player in architecture, design and set design. Inspired by the expertise behind Louis Vuitton's canvas trunk, they have conceived the simple yet spectacular hammock, with its sophisticated ribbons of leather and rivets gilded with fine gold.
By dezeen.com