BOEING 727 Transformed into a Luxury Hotel Suite in Costa Rica - Luxury Retail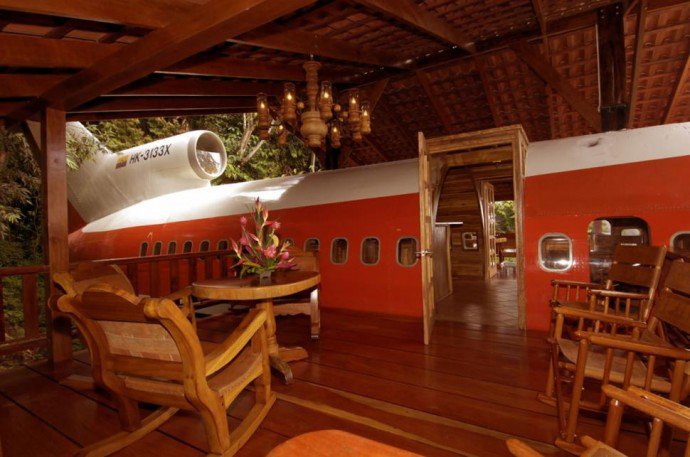 Once shuttled passengers on South Africa Air and Avianca Airlines has been refurbished and turned into a luxurious hotel suite in Costa Rica. The fully outfitted fuselage suite is perched on a custom-built pedestal 50 feet up from the ground. At this height, it sets its guests on a flight of fancy offering views of the scenic ocean and jungle both from the factory airplane windows and the handcrafted deck that has been built atop its wings. The suite is part of the Costa Verde resort.

The interior of the plane has been decorated using local teak wood and Costa Verde's renowned innovation.
Furnishings are hand-carved, teak furniture from Java, Indonesia. The 727 home features two air conditioned bedrooms–one with two queen sized beds and the other with one queen sized bed, each with its own private bath—a flat screen TV, a kitchenette, dining area foyer; an ocean view terrace; a private entrance up a river rock, spiral staircase; and 360 degrees of surrounding gardens.
The airframe was salvaged from its San Jose airport-resting place. It was brought on five trucks to the jungles of Manuel Antonio where it was resurrected into a jumbo hotel suite. Guests can also enjoy glass of wine on its terrace. Sloths, monkeys, toucans are common sight around.