Apple Central World Bangkok - Luxury Retail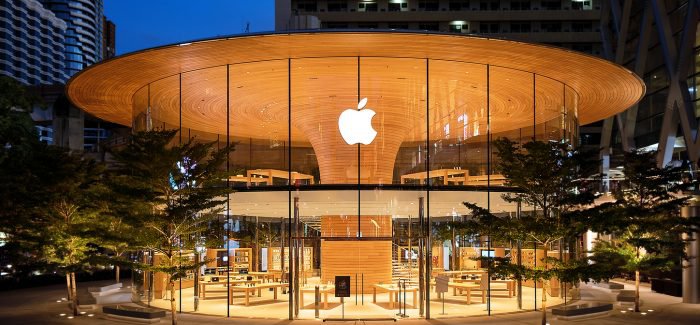 Tree-like column is centrepiece of Apple Central World by Foster + Partners
A timber-clad column and overhanging roof that resembles a tree canopy characterise Foster + Partners' latest Apple Store, which it has completed in Bangkok, Thailand.
Named Apple Central World, the store is designed by Foster + Partners with "a quiet sculptural presence" to juxtapose with the lively plaza of Central World – the capital city's largest shopping centre.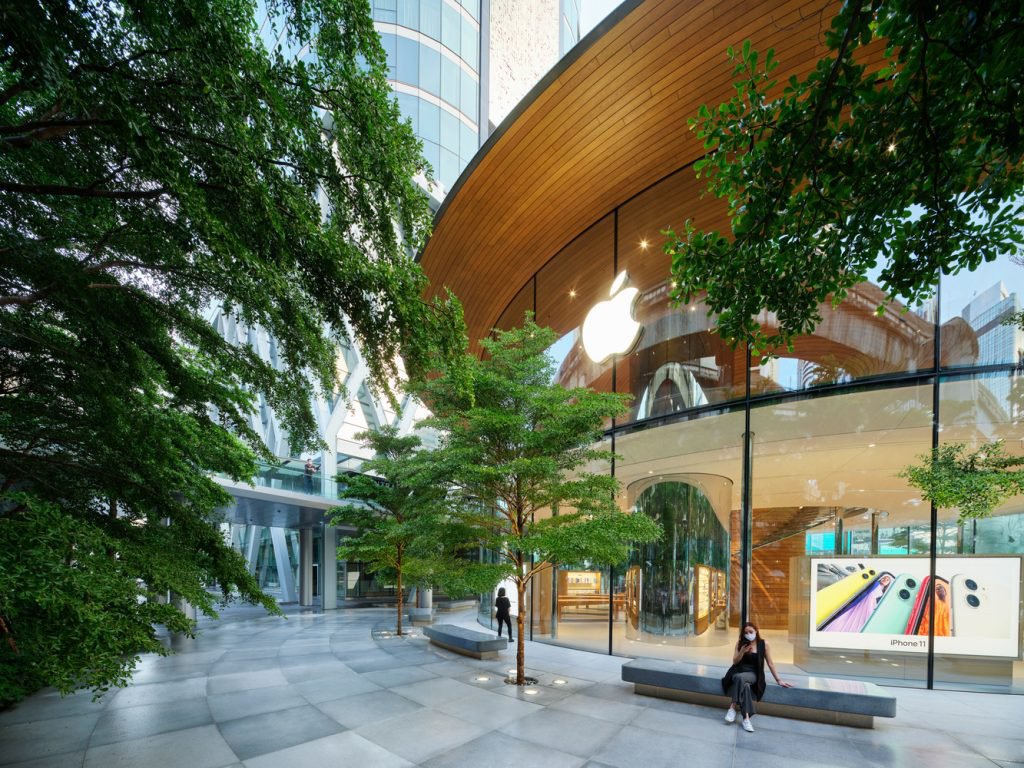 It is wrapped in floor-to-ceiling curved glass facades that provide passersby uninterrupted views inside and frame the tree-like interiors, referred to by Apple as the Tree Canopy.
"Located in one of the city's iconic urban centres, the new store establishes a quiet sculptural presence at the heart of the bustling Central World Square on the intersection of Rama I and Ratchadamri roads," explained Foster + Partners.

"It forms a new social focus for the city and an inviting backdrop for the city's famous New Year celebrations and numerous other annual festivities."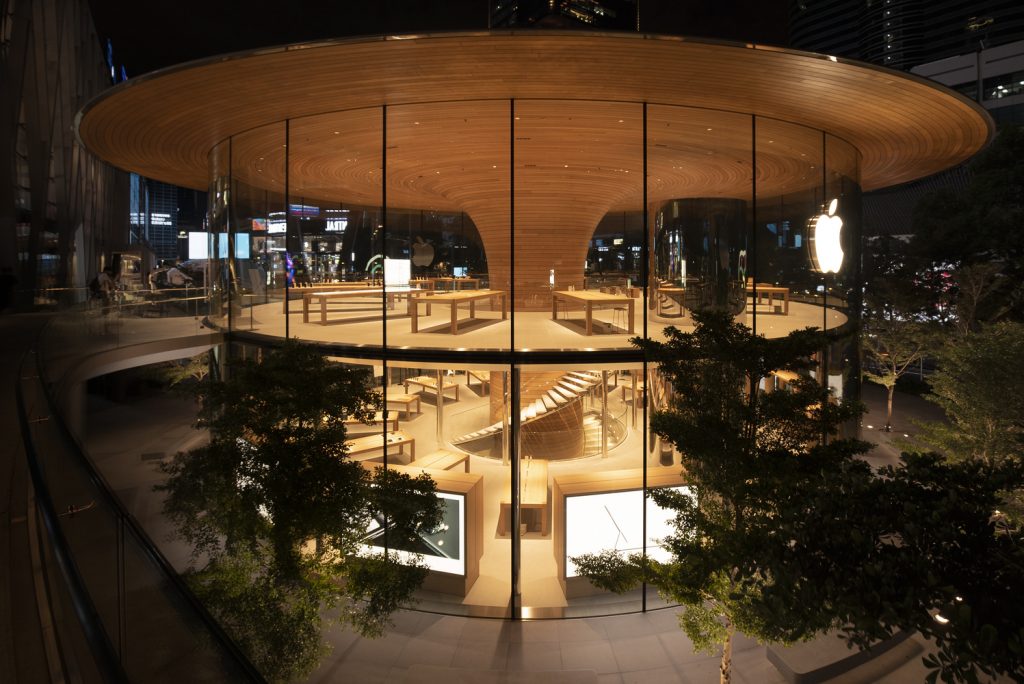 Apple Central World was designed by Foster + Partners' Bangkok office in collaboration with Apple and local studio Architects 49. It is the second Apple Store by Foster + Partners in Bangkok, following the completion of the tree-lined Apple Iconsiam store in 2018.
Guests can enter from either the ground level or the first floor, which is directly connected to the shopping centre and Bangkok's Mass Transit System via a new bridge and walkway.
The store has a diameter of 24.4 metres, with the sculptural column clad in 1,461 slats of European white oak placed at its centre. Where the column meets the ceiling, it fans outward to merge with the roof of the store. It then extends beyond the store's perimeter to form a three-metre-long cantilever that shades the glazing.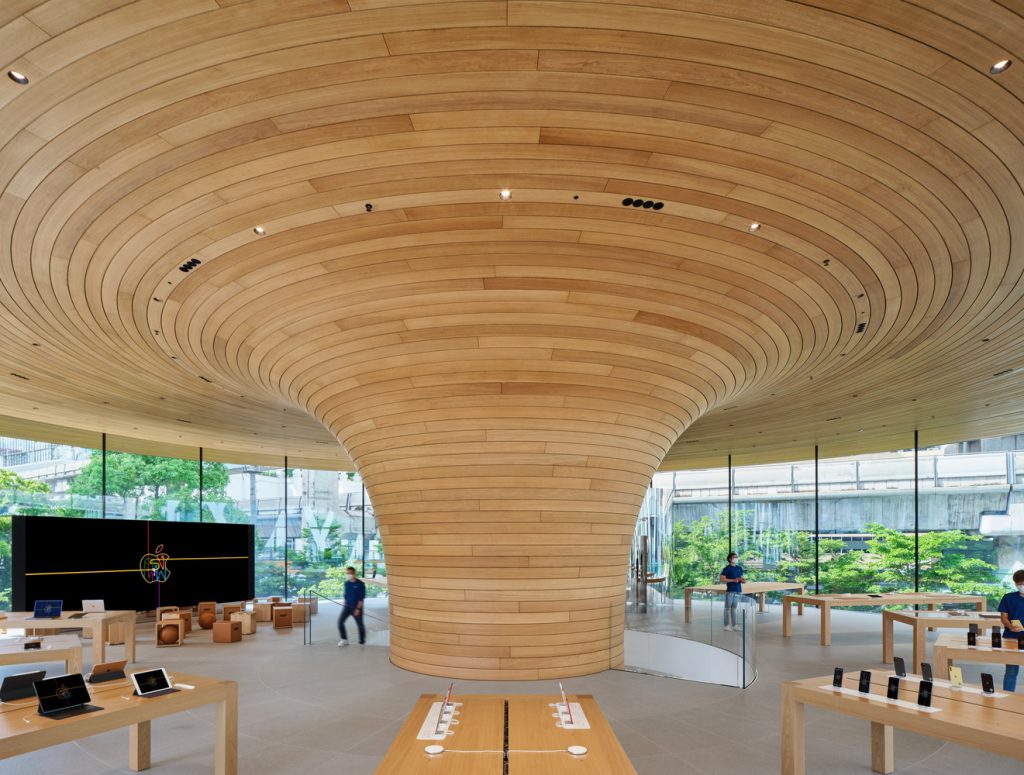 The floor-to-ceiling glazing that envelops the store was chosen by Foster + Partners to dematerialise the boundary with the outside – similarly to many of the studio's other Apple Stores including Apple Sanlitun in Beijing. In the case of Apple Central World, the glazing is intended to address the "public plaza and the famous Erawan shrine located across the road".
The store's sales areas are split over two levels, and there is also a basement level that contains a private boardroom for business customers.
The floors are connected by a spiral staircase that cantilevers from the central column, with treads made from solid blocks of polished stainless steel chosen for a "reflective, sculptural quality". Foster+Partners has also incorporated a cylindrical elevator that is clad in the same polished stainless steel, resembling a minimalist sculpture that spans the shop floors.
Externally, Apple Central World is complete with benches and large Terminalia trees to offer a quiet place for the locals and visitors to rest.