24K GOLD PLATED DUALSHOCK 4 AND XBOX ONE CONTROLLERS - Luxury Retail
For those who love their bling, and there seem to be so many of them, a gold plated anything is always on their list. So for their friends who can afford it and are wondering just what to get someone who has everything, something like a 24k Gold plated controller for their Xbox One or PS4 would be just perfect.
COLORWARE'S 24K GOLD PLATED DUALSHOCK 4 AND XBOX ONE CONTROLLERS ARE HERE TO BRING SOME BLING TO YOUR GAME
Of course they would need to upgrade from their 24K Gold PS3, but would go great with their Gold Xbox One. And in case you're wondering where one gets something like this, you're in luck as ColorWare has only just announced both a 24k Gold plated DualShock 4 controller and an Xbox One controller.
"24k Gold is something we have been experimenting with for a while. The gaming controllers are so popular we thought it would be fun to create an exclusive gaming controller for those diehard gamers." – Justin Cisewski, CEO at ColorWare.
Laborious process
What the company swears by is their laborious process of disassembly, cleaning, masking, painting and inspection of each device. Each controller is then buffed to a rich, glossy gold finish, reassembled, inspected again, and the packaged into the original packaging. As gamers will know, each of these new generation controllers are designed to offer users the best possible gaming experience with highly sensitive joysticks, a touch pad (DualShock 4), trigger buttons etc. ColorWare has ensured that the sanctity of game play from these devices has not been disturbed in the slightest. The superficial styling is merely to give avid, hardcore gamers a sense of exclusivity.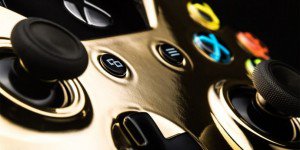 They are limited edition controllers as only 25 pieces of each type are available for purchase and are all engraved with the series numbers. They can be bought for $299 and will ship in about three to four weeks.