Fortnum & Mason's 'World of Confectionery' - Luxury Retail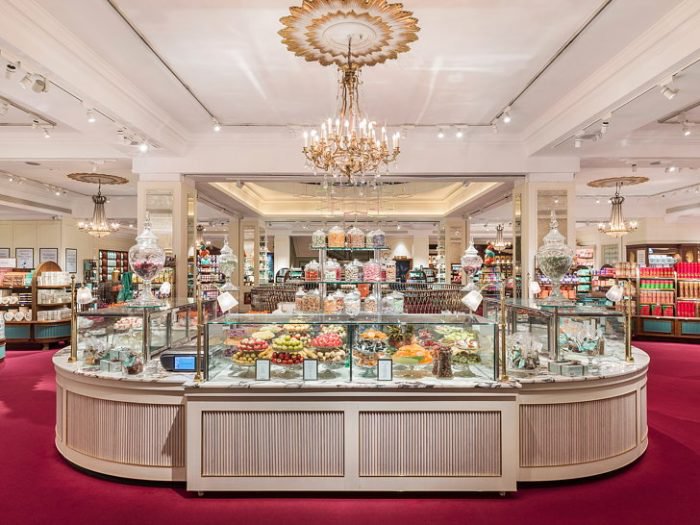 CADA Redesigns Fortnum's World of Confectionery
CADA Design recently completed a major redesign for the Fortnum & Mason's 'World of Confectionery' within its Piccadilly Flagship.
The new confectionery department is designed with the pursuit of pleasure in mind. With more than 500 different varieties of chocolate in one place, the new luxury wonderland is the ultimate destination for chocolate lovers.
Visitors will encounter innovative and artisanal delights from around the world – a celebration of Fortnum's rich history of exploration and discovery – along with classic Fortnum's flavors such as Rose & Violet, Kent Honey, and Royal Blend, traditional techniques and recipes.
The objective for the confectionery redesign was to create a destination that embodies Fortnum's main mission of 'a sense of pleasure'. It highlights Fortnum's as expert editors and innovators in confectionery, to show originality making the everyday special by conjuring emotive experience, and by actively engaging, maintaining and acquiring loyal & new customers.
CADA worked with Fortnum's to create a world-class, beautiful destination for chocolate and confectionery on the ground floor at their historic Piccadilly store. The department is playful, sensory and immersive, from aroma jars and daily tastings to a live chocolatier station and even hot chocolate on tap. It is a shining example of confectionery and retail best practice.
Designed as a sweeping, sweet-filled amphitheater, Fortnum's loose chocolate counter is a gateway to discovering hundreds of different varieties under one roof. It is an ode to abundance, with four tiers of chocolate through 180 degrees. The new counter in the round enhances the customer experience by producing a more circular shop, enabling the merchandise to always face the customer.
Handblown lampshades and coco pod pendant lights further enforce the beauty and delicacy of this confectionery department. Ornate 'cocoa pod-shaped' brass finials adorn the counter lamps, adding a Fortnum touch that speaks of the store's rich history with a touch of playfulness.
'Fortnum follies' as they are affectionately known, offer instore interaction that tells the stories around each product range. In this case, cheeky bronze squirrels (a nod to the fact that squirrels are known to steal coco beans while they are laid out in the sun to dry), sit on the back counter with a collection of truffles taken from the expansive range on show.
The new confectionery department entertains and educates. Nestled behind the gold, chocolate flowing selmi taps is the chef station. The beautiful, breccia violetta marble top (chosen for its rich marbling) becomes the perfect surface to temper chocolate in store. Personalization will be available throughout the year, offering hand-crafted chocolate slabs and truffles, the perfect gift.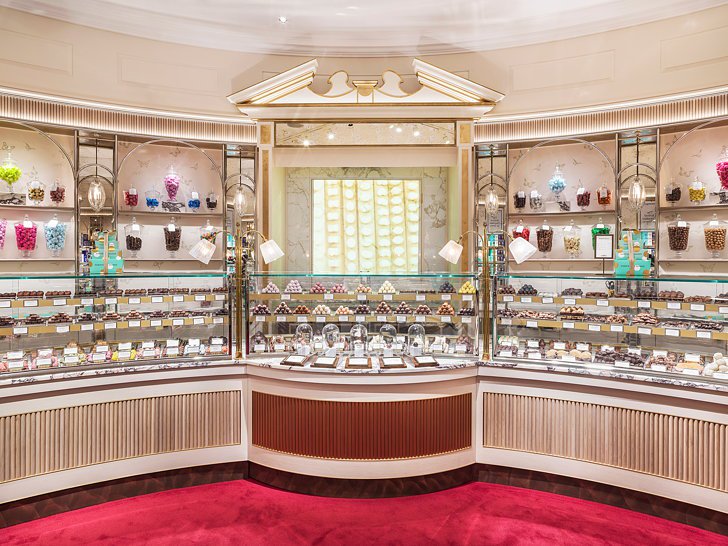 Introducing technology in an environment steeped in rich heritage needed to be executed in a considered way. Video content is softly projected onto a marble backdrop educating customers on the hand-made English heritage of Fortnum's chocolate.