Montblanc Red event, Champs-Elysées - Luxury Retail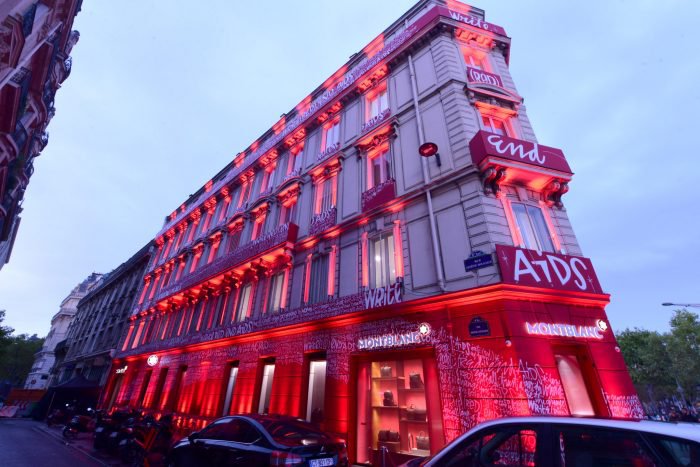 Montblanc goes red as it promotes leather goods collection
A deep shade of red has transformed an imposing building at 152 Champs-Elysées in Paris.
This is the façade of Montblanc's boutique on the famous shopping street, which has temporarily been lit up to celebrate the launch of (Montblanc M) Red, a collection launched by the luxury brand in collaboration with Red, organisation fighting to end HIV/AIDS.
The new line of writing instruments and luggage was released on 8 October, coinciding with the sixth Global Fund Replenishment conference in Lyon, hosted by French president Emmanuel Macron to raise money for the fight to end AIDS, tuberculosis and malaria.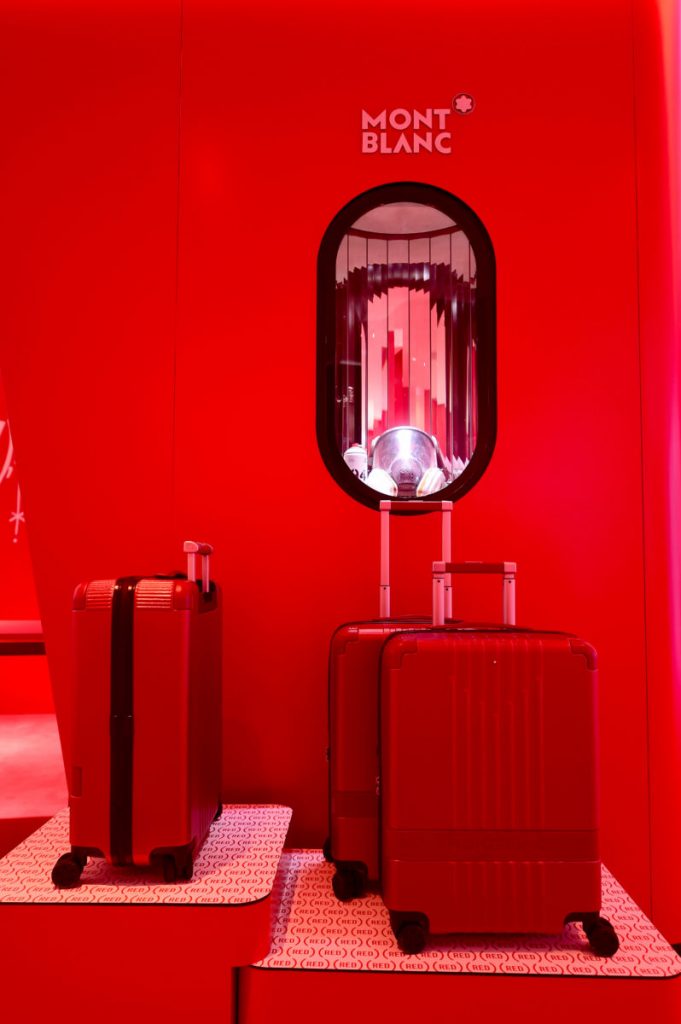 "The project is part of a strategy launched by Montblanc some time ago, following the idea that as a maison deeply rooted in writing, culture and education, we have always wanted to collaborate with charity projects that allow us to express ourselves in areas that feel authentic for the firm," the company's CEO Nicolas Baretzki told FashionNetwork.com, underlining the importance of raising awareness in the fight against HIV.
After starting a collaboration with Unicef almost 20 years ago, the Hamburg-based company has pledged to raise $14 billion over the coming three years alongside Red, the organisation founded in 2006 by Irish singer-songwriter Bono and activist Bobby Shriver.
TRAVEL, AN ENGINE FOR GROWTH IN THE LUXURY SECTOR
Founded in 1906, Montblanc began life as a writing instruments specialist. Still linked to them, the luxury house has branched out into new categories over the years, finding new ways to preserve its brand DNA in watchmaking, stationery, leather goods and accessories.
"We were born in Hamburg, an international port city. The idea of the traveler, of exploration, is part of our brand DNA," says Nicolas Baretzki, stressing that "the world of travel is a completely legitimate area for Montblanc. We have a growing presence, via physical stores, in almost all airports." The ultimate goal is to offer "our customers a complete experience", with the travel collection spanning across suitcases, backpacks, smartwatches and notebooks. "Looking ahead, there are certain categories that I think will be particularly interesting in the luxury world. Especially suitcases," says the chief executive of Montblanc, which is part of Richemont. "If we have beautiful luxury items, we can't have suitcases that are not up to par. There is a connecting element here that validates the launch of Montblanc's own luggage line," he adds with a smile.