"The Royal Exchange" bar and restaurant in Fortnum & Mason - Luxury Retail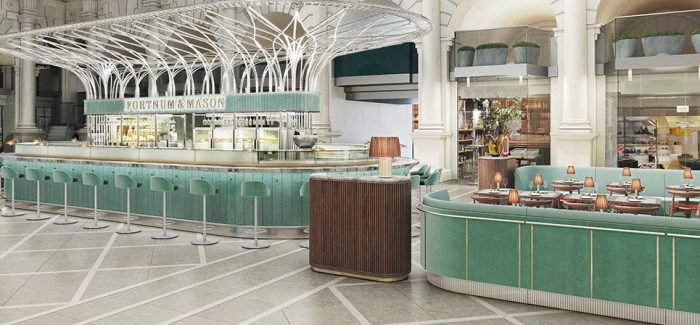 Fortnum & Mason opens new store, bar and restaurant at The Royal Exchange
Fortnum & Mason has opened a new store, bar and restaurant within The Royal Exchange in London.
Situated in the centre of The Royal Exchange's internal courtyard, The Fortnum's Bar & Restaurant has transfomed the iconic London landmark into a contemporary dining destination. The bar is respectful of the surrounding neoclassical architecture, proportioned to sit harmoniously within the vast internal atrium whilst creating a sense of intimacy.
Designed by Universal Design Studio, the central bar seats up to 90 diners and offers a modern take on the Fortnum & Mason signature aesthetic, with a textured material palette of nickel, marble, Eau de Nil leather and glazed ceramics to complement the hues of the building's dominent material – Portland stone. The latticework of the canopied bar takes inspiration from Fortnum's English silverware collection, the original Piccadilly building and images sourced from the company's 300 year old archives.
Reflecting the heritage of the British brand, all of the metalwork and hand-blown glass detail within the island counter is made within the Southeast of England, while the bespoke leather banquettes incorporate the iconic retailer's colour palette.
The 213 sq m retail store is tucked away within the historic internal archways, and features bespoke chandeliers by Studio Roso, crafted from thousands of silver 'shells' taken from Fortnum & Mason teaspoons. Custom hand-blown glass lights and vases by Michael Ruh Studio, in collaboration with Universal, decorate the bar and restaurant throughout.
'We are proud to bring Fortnum & Mason and The Royal Exchange – two London icons – together so harmoniously. The proportions, illumination and materiality of The Fortnum's bar have brought the trium to life once again, offering Londoners a new destination restaurant in an historic building, with an elegant store design which adds modern refinement to both the landmark setting and Fortnum & Mason food hall ofering,' says Hannah Carter Owers, co-director at Universal Design Studio.