Philipp Plein pop-up store in Paris's Galeries Lafayette - Luxury Retail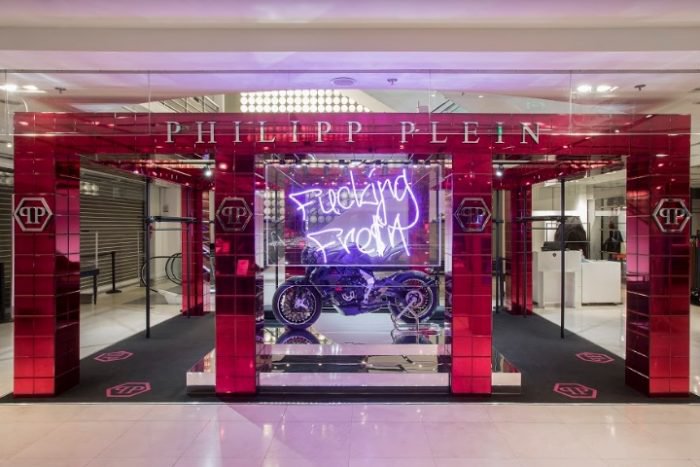 Philipp Plein pop-up store by Claudio Pironi, Paris – France
The new Phillip Plein pop-up store opened in Paris's Galeries Lafayette turned fluorescent pink. A cube of wonders, where the eclecticism of the architect Pironi is once again in total harmony with the Rock soul of Plein maison.
The design of the space turn around RVS #1, the Limited Edition motorbike exclusively designed for the designer Philipp Plein by MV Agusta, a model that invite visitors to dream and to immerse themselves in the exclusiveness of the objects and clothes positioned inside the store. A unique piece that is perfectly in tune with the spirit that distinguishes the approach to design by Claudio Pironi.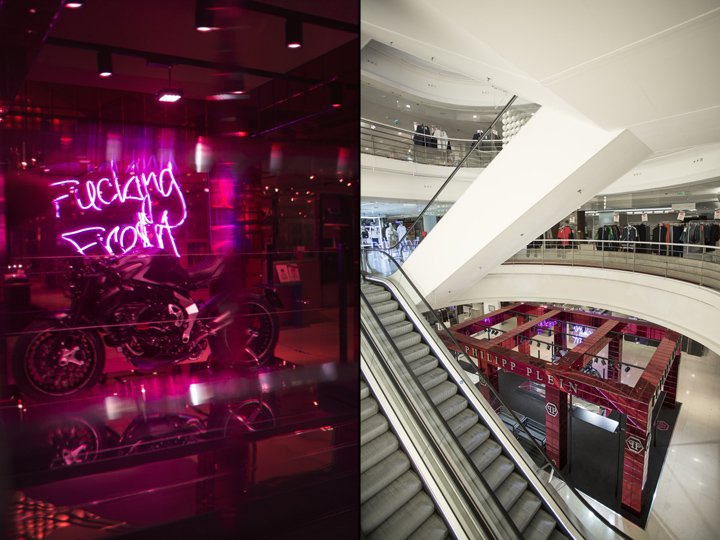 The space is set in a spectacular setting where exposed pipes create an industrial atmosphere in total contrast with the luxury of the objects and materials used in the other stores of the brand such as black marble, white for the panels that cover the walls, the chandelier in Swarovski crystal, to give guests an almost displacement effect. Here, the structure is covered with shocking pink methacrylate panels giving a mirrored effect that confers depth and volume to the whole space.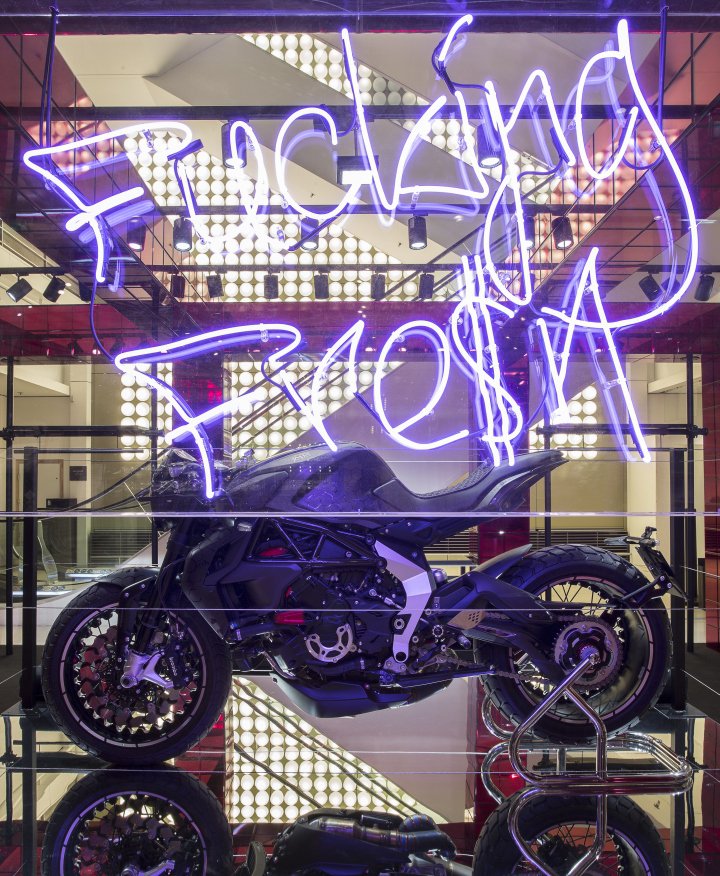 Ephemeral and multi-sensorial, the Plein pop-up store embodies the true soul of Parisian street style inside Lafayette and reveals itself in all its expressiveness: brightly colored LED lights and signs that embody techno art. Once again, Architect Pironi masterfully performs the personality of the Plein brand by designing a space that reveals the careful design and compositional research that distinguishes the Studio.
"It was to win another challenge, to perform in a new way the spirit of the designer Plein into the design of this pop-up store" tells Claudio Pironi. "The research and use of different materials has allowed us to create new emotions. Many times, going beyond the limits of technology to unveil the materials and spaces expressiveness are key details. This is the example ".