"La France par Jean-Paul Gaultier" - Luxury Retail
Famed haute couture designer Jean-Paul Gaultier lends his talents for latest gold and silver coins
The Monnaie de Paris have unveiled their newest program of gold and silver coins, with an unexpected twist—they are designed by famed clothing designer Jean-Paul Gaultier, who is widely renowned as one of the more avant-garde luminaries in the world of fashion. 
In "La France par Jean-Paul Gaultier," the designs of €10 coins are inspired by the cities, provinces, and regions of France as seen through his  creative eyes. In addition to each 12-coin €10 collection is a pair of €50 silver coins, one un-colorised, one colorised. A €200 gold coin representing France's strong symbols completes the series as a whole.
An exclusive and innovative style of packaging, inspired by the packaging of Gaultier's perfume containers, was developed in order to store and present the coins. For each €10 collection, a fan-folded brochure with acrylic capsules to hold each of the 12 coins opens for display, then folds shut to fit within the cylindrical container; a leaflet with the specifications and the names of each of the silver coins as well as a quick presentation of the series completes the box presentation.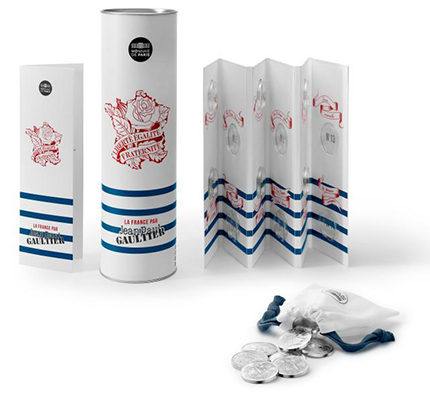 As an alternative presentation, a fabric collector bag—inspired from Jean Paul Gaultier's own signature collection—can house the €10 silver coin-cards that are sold in the French post offices or the Monnaie de Paris.