VIP Black - Luxury Retail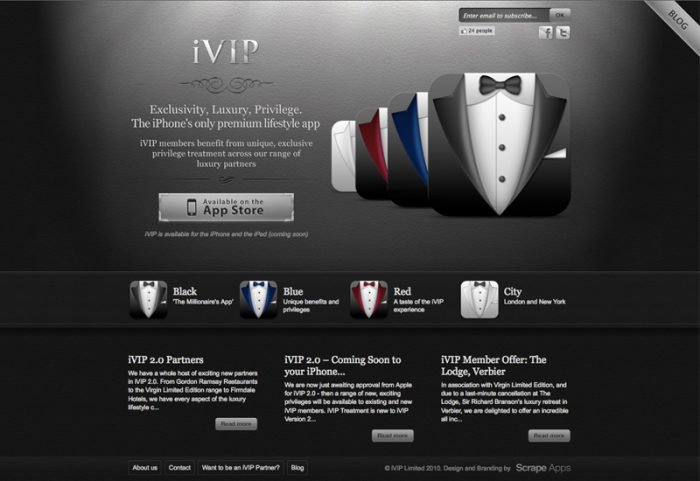 VIP Black app b.k.a. "The Millionaire's App"
The mobile has become a fundamental tool of our day to day and with it the applications.
In search of exclusivity and distinction, luxury also comes to this sector to meet the needs of the most demanding and gourmand users, in this case, through Vip Black. A new version of the application has just been launched and already devastates among its subscribers.
Exclusive plans, recommendations of the best restaurants, gyms, events that you can not miss and endless proposals only fit for privileged pockets, and is that the price of this app is $ 999. One of the requirements to download it is that users have to prove that in their bank account there is at least one million dollars. In this way, it is fully guaranteed that only a very exclusive number of users can access the proposed plans.
Among its list of "partners" are the restaurants of renowned chef Gordon Ramsey, Christie's auctions, the luxury hotel chain Firmdale Hotels and Virgin Limited Edition. Although it is the most expensive app on the App Store already has 20,000 registered members who can enjoy the most exclusive and select plans. It has a free version: Vip Red, which lets you know some of the advantages of having the payment application and for a moment feel part of that select group, but without receiving invitations to events or other unique advantages offered by this app.
Luxury fails to sell a classic and traditional image, taking an unexpected and necessary turn. It is the moment of bloggers and influencers, who through different platforms show us the luxury from another perspective. That has created a new target in this sector. A young man, wanting to be up to date on everything and willing to spend, to be able to lead the same life as those who follow in the networks. That's why the apps so common in our day-to-day along with luxury brands, present their most exclusive version betting on the distinction.