Tommy Hilfiger Florida Beach Home - Luxury Retail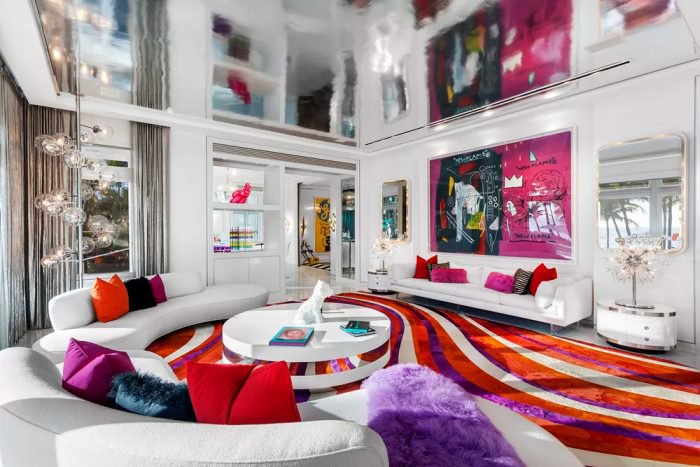 Tommy Hilfiger's 7-Bedroom Florida Beach Home Listed for $27.5M
If you've ever wondered what it'd be like to live like fashion designer Tommy Hilfiger, you're in luck, the American fashion designer just put his Florida estate now on the market. 
The 14,075-square-foot beachfront residence is located on Ocean Boulevard and is priced at $27.5 million.
The designer and his wife purchased the home, which sits on a 27,500-square-foot lot, back in 2013 for $17.25 million. The pair worked with interior designer Martyn Lawrence Bullard to furnish it with curated pieces and add bold pops of color in true Hilfiger fashion. Sitting on more than half an acre, the three-story house boasts seven bedrooms, eight bathrooms, an infinity pool, an elevator and scenic ocean views.
Decorated with a pop-art aesthetic, the estate features geometric patterns, bold colors, a 1960s/70s art gallery and a scratch-and-sniff fruit wallpaper, because why not? When you enter the all-white home, the formal entry opens up to a white-glass tile staircase with marble steps sitting under an elegant chandelier which runs from the ceiling and almost hits the ground.
"This estate is pure Hilfiger style," Jill Eber of The Jills real estate firm told The Telegraph. "Designed with vibrant colours and a Studio 54 style, the estate is a beachfront gem in exclusive Golden Beach. Having sold this home to the Hilfigers four years ago, we are elated to once again showcase it to prospective buyers."
Adding to the residence's whimsy is a red, white and blue-striped gym and a bar area with hanging disco ball and transparent bar stools paying homage to the '60s and '70s. The red-hued media room with psychedelic furnishings and color scheme is ever flower child's dream space. Because it is only one of a few homes located on the exclusive Golden Beach, the villa also includes its a private beach. On the patio, owners will find a palm tree lined backdrop with infinity pool and spa.