The Popeye statue in one Las Vegas hotel - Luxury Retail
Billionaire casino owner Steve Wynn splurges $28.2 million for Jeff Koon's Popeye Statue
After Sotheby's archrival Christie's topped expectations, selling art worth nearly $745 million in less than three hours on its first day, Sothebys is determined to outmaneuver sales. One of the highlights at Sotheby's Contemporary Art Evening Auction was Jeff Koons' iconic 'Popeye'. The seven-feet-tall monumental sculpture was sold to Casino mogul Steven Wynn for $28.2 million.
Jeff Koons has only created three of the Popeye statues.
The 2,000-pound statue of Popeye is seen flexing his bicep and carrying his signature can of spinach. Sotheby's released a video  about the sculpture. before it went out for auction.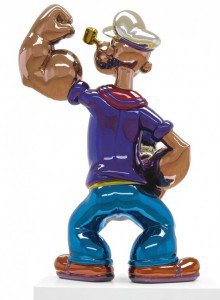 The Popeye statuette will be displayed in one of Steve Wynn's hotels in Las Vegas. This is not the first time Wynn has purchased a work of art made by Koons. In December 2012 he purchased stainless steel work Tulips for $33.6 million.