The Montblanc High Artistry - Luxury Retail
The Montblanc High Artistry $ 2 Million Dollar Pen
When it comes to pens, Montblanc often pushes the constrictive boundaries of design. This time, with a Taj Mahal inspired, one-of-a-kind High Artistry collection.
Montblanc celebrates the splendor of the Mughals and Maharajas in a high artistry edition of precious precision writing instruments crafted through technical excellence and unrestrained creativity.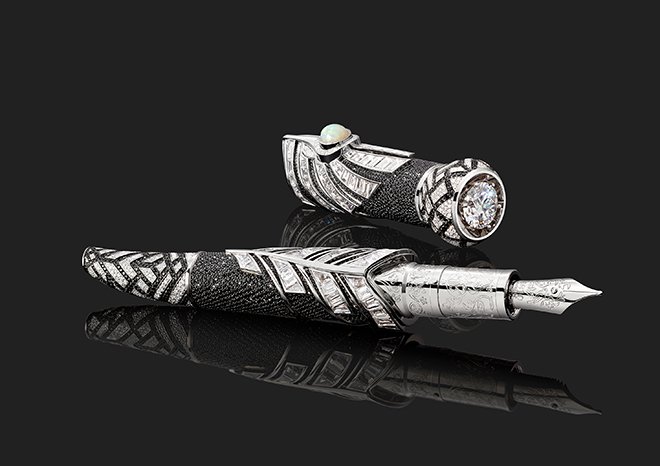 In a series which defies imagination, The Montblanc High Artistry collection is deeply inspired by the Taj Mahal – an ivory-white marble Islamic mausoleum on the south bank of the Yamuna river, India. Built in 1632, the site was commissioned by Mughal emperor Shah Jahan to house the tomb of his favourite wife. Featuring three one-of-a-kind writing instruments, the collection is a product of meticulous stone cutting and setting, hand engraving, enameling and elaborate gold work. Each Montblanc fountain pen closely resembles the traditional slightly curved Mughal dagger – an insignia of power.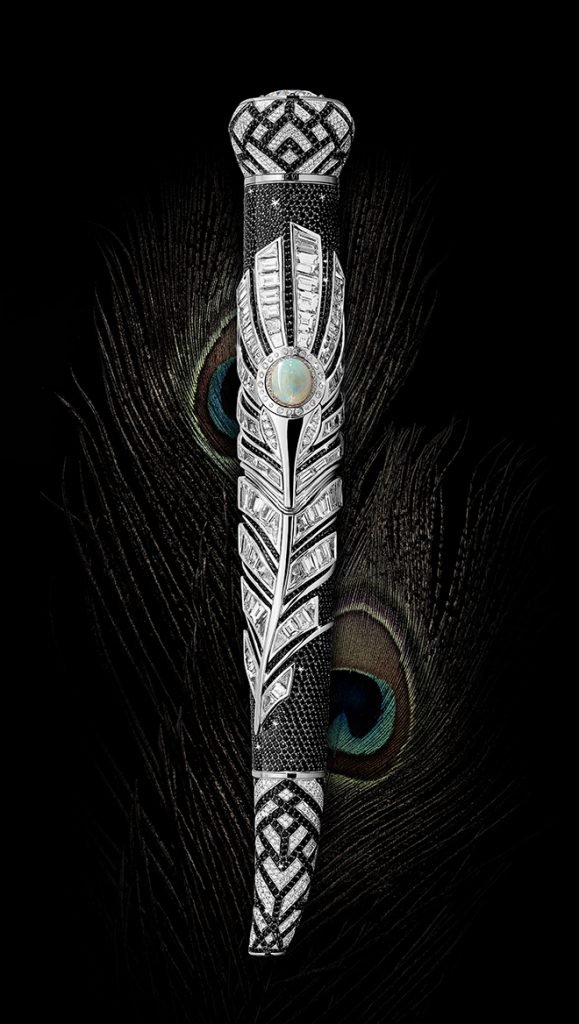 The Montblanc High Artistry $2 Million Dollar Pen
Incorporating a cap top reminiscent of the Taj Mahal's monumental dome, the forepart of the pen features intricate displays of traditional Mughal decorations of India's most revered landmark.
Unlike previous editions, the High Artistry collection does not include a clip – in its place, rests a majestic peacock feather, referencing emperor Shah Jahan's early 17th century, gilded peacock throne which was set in diamonds, rubies and innumerable precious gemstones.
Inspired by legends depicting emperor Shah Jahan's desire to build a full black, mirror image of the Taj Mahal across the Yamuna River from his wife's resting place, the Limited Edition 1 Black Myth features a striking black and white design – made from solid Au 750 white gold. The pen itself is fully embellished with thousands of black sapphires and brilliant cut diamonds in a pavé-setting. Featuring a 6.24 ct., FL impeccably cut diamond as a center stone, and a solid Au 750 yellow gold nib adorned with two love birds surrounding a flower, the pen represents a symbol of emperor Shah Jahan's eternal love for his wife, Mumtaz Mahal.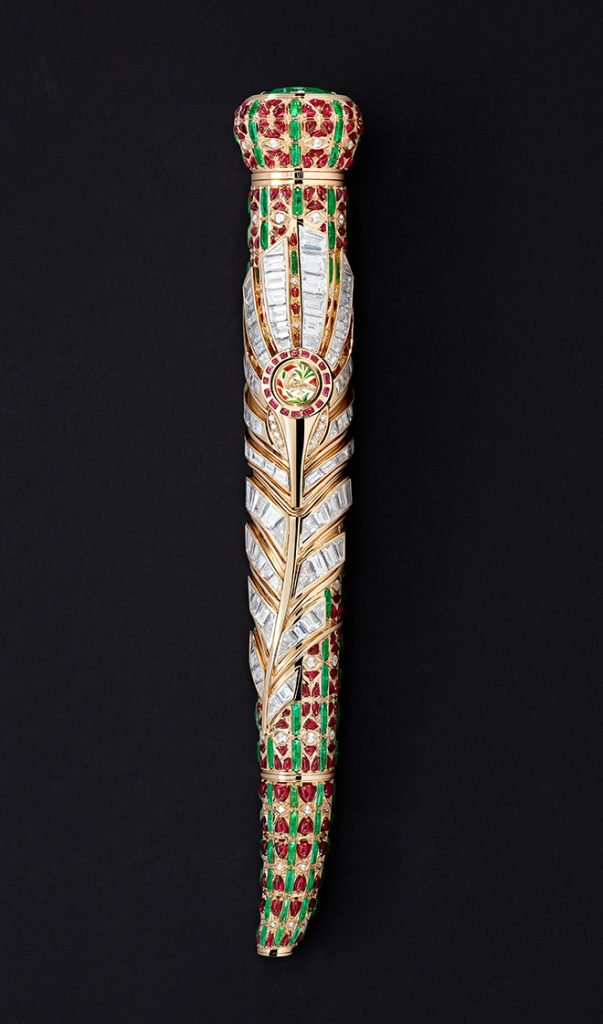 The Insignia of Power is based on the Mughal's traditional dagger, passed down to emperor Shah Jahan from his father during his crowning. The dagger which represents power and status, inspired the Montblanc fountain pen's incorporation of rough rubies set in traditional Kundan stone setting. With a F VVS 2, old mine diamond positioned as the central stone and a detachable 2.45ct ruby cabochon which covers a miniature enamel painting of a daisy – the instrument pays homage to the world's first Indian diamond mines, its legendary stones and the traditional symbol of true love.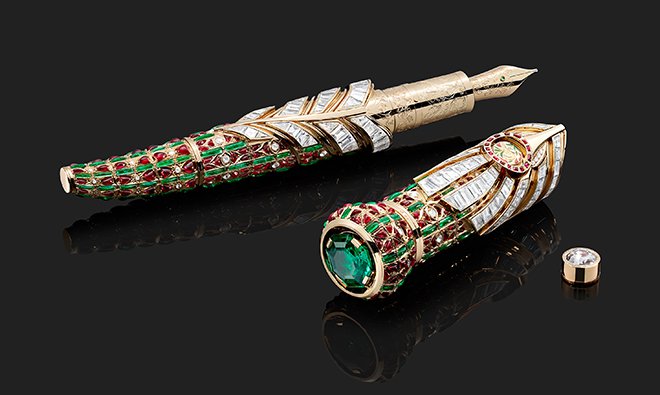 Amongst the Mughal courts and throughout the empire, emeralds held special names and meanings. Inspired by the sacred stones, "Tears of the Moon" represents the dynastic heirloom passed from father to son which was worn as a personal talisman and revered for being a mysterious green fire ranging from lunar opacity to clear transparency. Adorned with rubies, emeralds and diamonds using traditional Kundan stone setting, the 6.10 ct. step-cut emerald is this instrument's center stone. With detachable rose cut diamonds, the instrument reveals a miniature enamel painting of a bird – another visual representation of eternal love.
While the Montblanc High Artistry collection does feature other less ornate Taj Mahal inspired writing instruments, such as the Limited Edition 76, 10 and 5 worth EUR 49,000 – EUR 550,000, these one-of-a-kind creations are currently on sale for an estimated EUR1,000,000 (USD1,100,000).