"The Fascination" - Luxury Retail
AT $40 MILLION GRAFF CREATES THE WORLDS MOST EXPENSIVE WATCH
London-based jewelers Graff Diamonds have created a watch that makes the Hublot watch look affordable in front of it.Called 'The Fascination', the diamond-clad timepiece is worth $40 million (£27 million). Described as the 'world's most valuable transformable timepiece' by Graff, the timepiece features 152.96 carats of white diamonds and a 38.13-carat pear-shaped diamond. Apart from telling time, this unique creation can also transform into a dazzling diamond ring.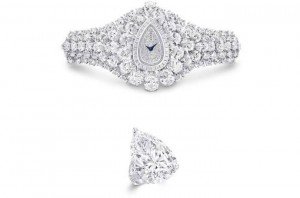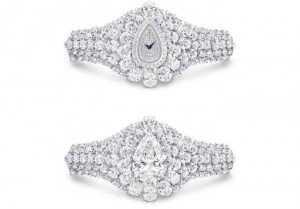 Unveiled at Baselworld, 'The Fascination' is a one-of-a-kind bracelet-cum-watch. The interchangeable 38-carat flawless pear-shaped diamond can be worn as a bracelet or placed into a tailor-made shank and then worn as a ring.
"We are inspired by the rarest and most precious diamonds – their influence is evident throughout everything we do.The Fascination is an outstanding piece, carefully crafted so it can be worn in a number of different ways – adding a touch of magic to the jewel."- said Laurence Graff, founder and chairman of Graff Diamonds.