The Egoist – Chitra Collection - Luxury Retail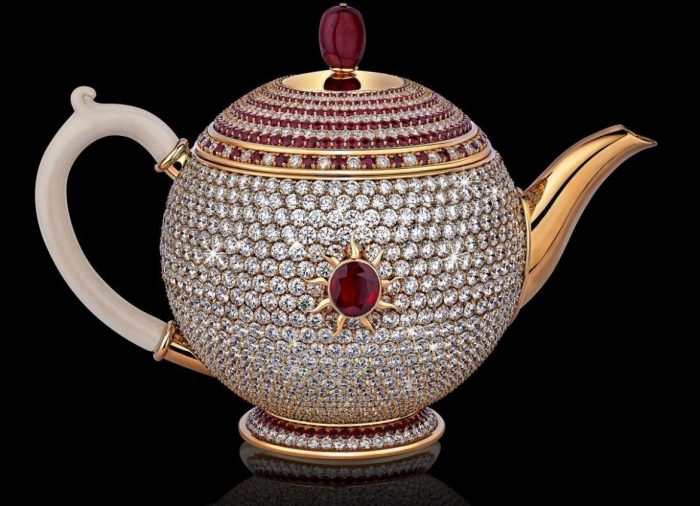 Most expensive teapot in the world
At $3 million the world's most expensive tea pot comes studded in sparkling diamonds
Called The Egoist, the kettle was created "to raise awareness globally of the historic and cultural importance of tea". Designer of this unique piece is Nirmal Sethia, founder of the N Sethia Foundation and Newby Teas of London. The teapot was made by Milanese jeweller Scavia. And here are the works – entirely paved in cut 1,658 D and E colour grade diamonds and 386 rubies, with a central 6.67 carat Thai ruby. A ruby bead tops the lid which Sethia explains has the effect as shining "like sun of Southeast Asia".
This teapot is part of The Chitra Collection which now calculates a total worth of $212 million. Sethia intends to unveil this next year. It includes more than 1,700 pieces so unique such as Lord Nelson's silver teapot, a silver tea set belonged to Winston Churchill's daughter, Lady Mary Soames, a 1,000-year-old Chinese Song Dynasty set and a hand-painted service which Louis XVIII paid 10,000 francs for in 1816.
Also, interestingly, the teapot is name The Egoist, as it serves one. Sethia has also brewed tea for the grand opening, using a rare Muscani tea from his Newby teas collection.
Chitra, is Sethia's Mumtaz Mahal, and The Chitra Collection his Taj Mahal for her. The collection was made in loving memory of his wife. What a wonderful story, and what a fitting crown on top.