The Bogányi Piano - Luxury Retail
THE SLEEK AND SEXY GRAND PIANO OF THE FUTURE
Hungarian pianist Gergely Bogányi recently unveiled his new piano design that has been 10 years in the making. The idea of redesigning a piano might seem like a purely aesthetic venture to some, but Bogányi undertook the project for technical reasons, he believed that traditional piano designs were lacking in many ways and that an improved sound quality could be achieved with a new design.
"The piano was invented 300 years ago," Bogányi told Today's Zaman. "Although there have been modifications, there have been no major developments in piano construction in over 100 years. So I spoke to many of my colleagues about the kinds of [mechanical and physical] problems and limitations we all have to deal with, and all agreed that we needed solutions."- Bogányi said
10 years in the making
The Bogányi Piano features a two-leg design that resembles a sideways "V" in profile. This new streamlined design provides the practical benefit of letting sound waves waft unobstructed to the audience. Among the 17 different modifications is also the addition of two keys on the bass end increasing the number of keys from 88 to 90. The cast-iron frame within the piano, which was earlier a contiguous shape, is now separated at strategic locations thus allowing both the player and the audience to receive more sound. The piano is comprised of less wood and more carbon fiber reducing problems associated with wood's response to temperature and humidity, which can cause ill-timed tuning issues.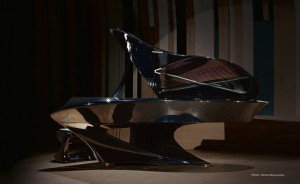 Several talented individuals have been part of the project including senior piano technician Attila Bolega, industrial designer Péter Üveges and technician József Nagy. Karoly Reisinger, CEO of the New York piano repair shop Klavierhaus, also joined the project after hearing about it.