05/09/2019 | luxuryretail
Meteorite fragments, moon rock, precious stones and a tourbillion at the back this custom iPhone 11 will have it all.
We are still a couple of weeks away from Apple's event where the brand new iPhone 11 is expected to be launched. In the run-up to the mid-September launch event, all major tech blogs and websites have already published plenty of stories on the rumored specs and design features of the upcoming iPhone 11.
Read More
26/10/2018 | luxuryretail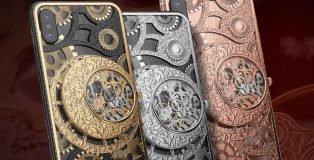 This $6,000 iPhone XS has a mechanical skeleton watch it's case
Russian luxury accessories and customization company Caviar has already launched several different custom versions of the recently launched iPhone XS and XS Max that are wrapped in some of the most extravagant materials known to man. Read More