iPhone 11, Universe Diamond - Luxury Retail
Meteorite fragments, moon rock, precious stones and a tourbillion at the back this custom iPhone 11 will have it all.
We are still a couple of weeks away from Apple's event where the brand new iPhone 11 is expected to be launched. In the run-up to the mid-September launch event, all major tech blogs and websites have already published plenty of stories on the rumored specs and design features of the upcoming iPhone 11.
However, luxury customization brand Caviar has gone one step ahead and announced a whole range of decked-out versions of the iPhone that appear to based on the purported leaks and rumors. The flagship variant is called the Universe Diamond that is not only decorated with precious stones but also with a piece of a real spaceship and fragments of the moon and meteorite.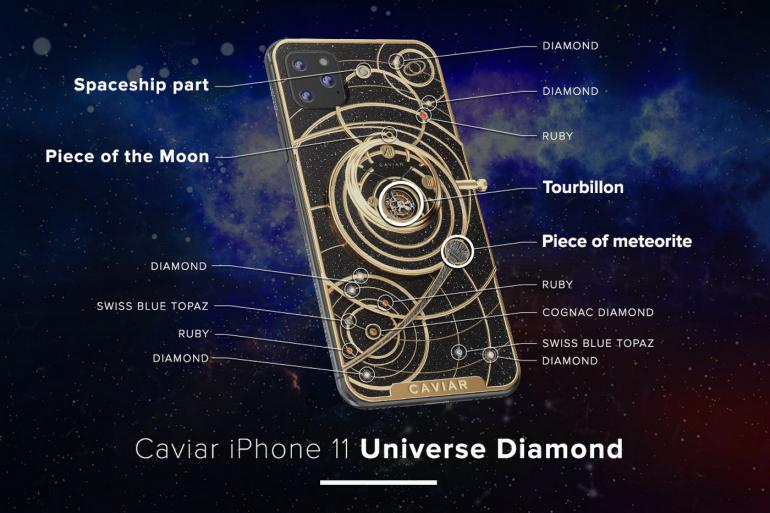 The space-themed customized iPhone 11 showcases the manufacturer's vision of a unique design inspired by the solar system and is built upon the range-topping variant of the Apple smartphone with three cameras at the rear. The orbits are depicted on the case back with solid gold spheres while the planets and other celestial bodies are present in the form of precious stones, which include diamond, Swiss blue topaz, ruby and more. At the center of the design is a real, mechanical watch with a tourbillon. The Universe Diamond will be released in a single copy and carries a price-tag of a whopping $49,990 USD.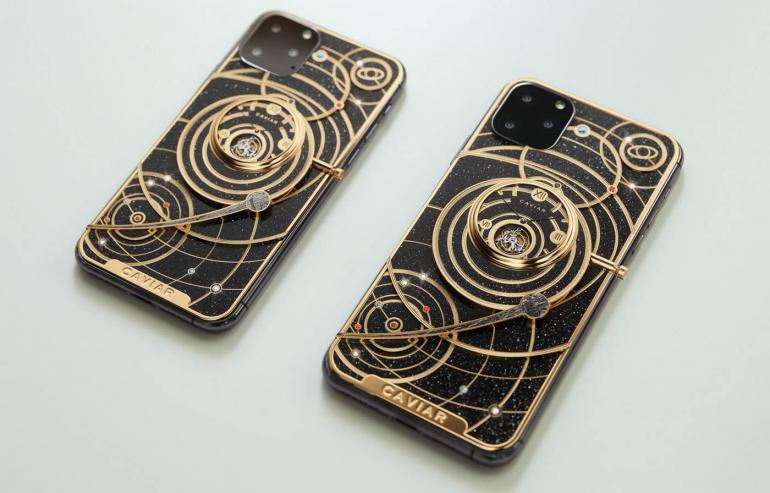 Caviar's iPhone 11 line-up also has more affordable options, starting from just $4,400. One such option is the iPhone 11 Explorer version that has a carved stone and titanium case that's designed to look like a satellite. The Soyuz variant, on the other hand, is "a proud celebration of Russian and Soviet spacemen" and has a miniature version of the Russian satellite on the device's case with a fragment of a genuine spacecraft that traveled to space.