Tag Heuer & Google - Luxury Retail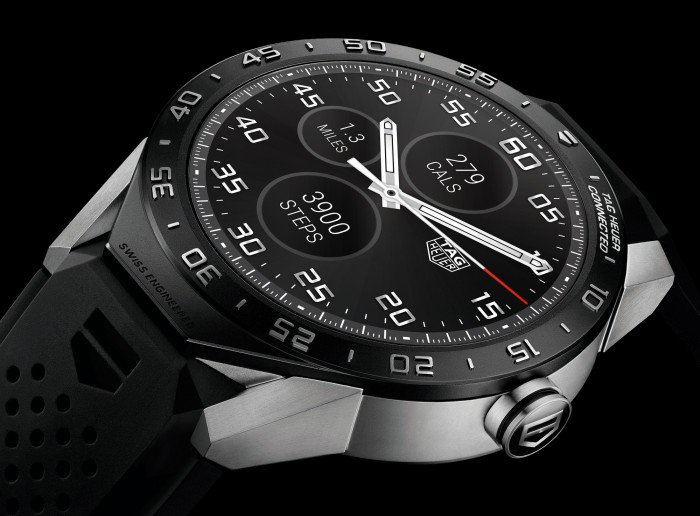 Tag Heuer & Google Unveil $1,500 Luxury Smartwatch Designed to Take on Apple Watch
The new Tag Heuer Connected watch, a $1,500 Android Wear smartwatch that will attempt to take on the Apple Watch.
It is designed to look like a traditional Tag Heuer timepiece and is modeled after the brand's Carrera model racing watch, a style they've been making since 1963. But this is where the similarities between the iconic watch and new smartwatch end. Connected is larger than the brand's usual pieces, clocking in with a 46.2 mm diameter wide and 12.88 mm thick casing. Designed from titanium, the watch is lighter than expected, but dwarfs competitors in size, for example the Apple Watch is only 42mm.
As it is a luxury timepiece, buyers can expect the best of Tag Heuer in a new techy-savvy design. Connected still uses quality materials like titanium casings, sapphire crystal and the same water resistance as other Tag Heuer pieces, but also has a 240ppi resolution screen, 4 GB of storage, 1GB of RAM, a 410mAh battery and is compatible with iOS. In addition to Android and iOS apps, there are also a series of Tag Heuer-developed apps that are exclusive to Connected and include things like tracking your golf game or getting restaurant recommendations. It also has three digital watch faces, all Tag Heuer styles, so it will still look like a Swiss timepiece on the surface. More watch faces, co-designed with Tag Heuer ambassadors like Cara Delevingne, Leonardo DiCaprio and Tom Brady, will be available over the coming months.
At the end of the watch's two-year warranty period, if owners would prefer a traditional Swiss timepiece instead of a wearable, they can head into any Tag Heuer store and trade in the smartwatch for a mechanical Carrera watch. Made from titanium, this watch has been exclusively developed and reserved for previous Connected owners.
Tag Heuer's Connected smartwatch with be available starting today at the brand's New York City boutique.