SWAROVSKI CHRISTMAS TREE - Luxury Retail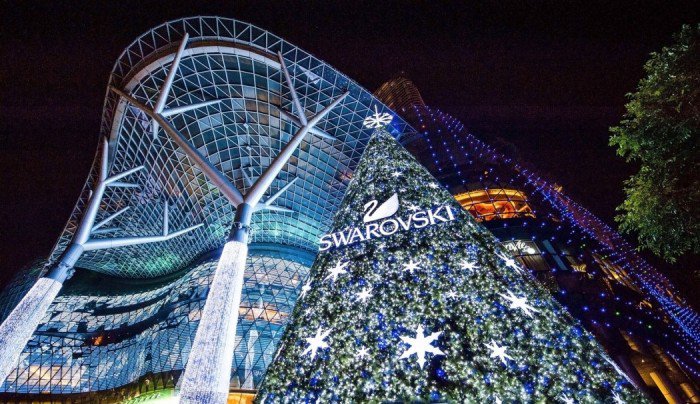 Gorgeous – Swarovski unveils its first outdoor christmas tree with 28.000 crystals
Swarovski is taking its glitter and shine outdoors with its first ever outdoor Christmas tree on Singapore's iconic shopping street Orchard Road. Sitting pretty outside ION Orchard at the intersection of Paterson Road and Orchard Road, the walk-in Christmas tree features 80 crystal strands and over 28,000 stunning clear crystals. Over 200 mirrored snowflake ornaments, from Swarovski's Christmas Ornament Annual Edition 2015, will also adorn the tree. A special Duo Snowflake tree topper sits atop the 20-meter tree.
The shine continues inside as its ceilings are decked in mirrors making it looks like a dazzling infinity room. A giant chandelier with crystals suspend from above, creating a starry- eyed experience for all who enter the Swarovski Christmas tree.
"The holiday season is a special time of the year for us and we're excited to be a part of ION Orchard's Christmas wonderland," said Aymeric Lacroix, Managing Director of Swarovski, Consumer Goods Business, South East Asia.
Keeping the Christmas spirit alive, Swarovski will donate 10 per cent of all its sales proceeds from the Christmas Ornament Annual Edition 2015, Christmas Ball Ornament Annual Edition 2015, Christmas Bell Ornament Annual Edition 2015 and the Little Star Ornament to Community Chest during the months of November and December.
This season, ION Orchard and Orchardgateway malls also took home the title of Best Dressed Building Contest 2015 by Orchard Road Business Association's (ORBA). Featuring a "An Icicle Xmas" theme, it received 4,904 out of a total of 17,551 votes registered on the OneOrchard mobile application, the association added. The judges' favorite was ION Orchard for its "Christmas Bedazzle" theme, which featured the Swarovski Christmas tree.