SNEAKERS DIOR - Luxury Retail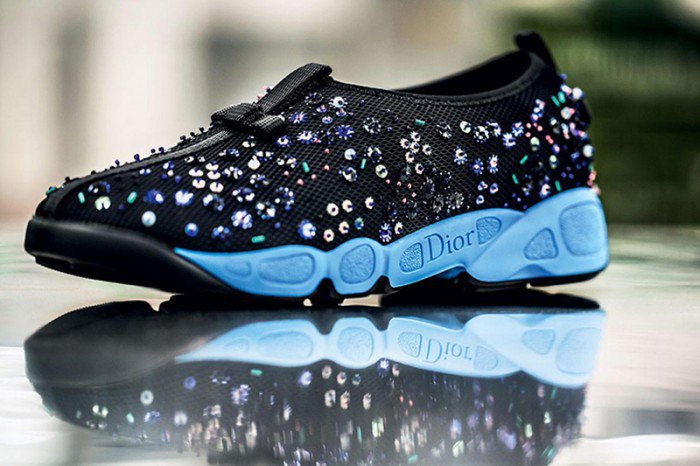 The Fusion of DIOR cry loudly and a new femininity, drawing a new silhouette, surprisingly, urban, light and futuristic at the same time.

Dior surrenders to 'sport style'
The collection, made with high-performance technical fabric, durable and lightweight, includes five models of futuristic couture, made using traditional methods, which make each shoe into a work of art.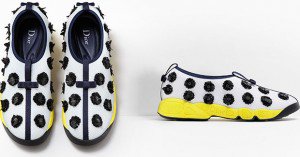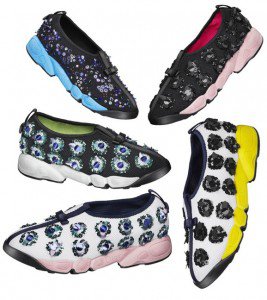 On the fine grid, intense black, pure white or tender pink pearls of different sizes and bloom in delicate shades colored sequins corollas where branches are flowery garden honoring the childhood home of Christian Dior in Granville, not has ceased to be a valuable source of inspiration for their creations.
These flowers couture unfold its petals with an almost botanical accuracy, born between the fingers of Italian artisans and Parisian workshops cultivating long this traditional know-how. Rubber outsole sky blue, lemon yellow or black intense is delicately stitched with four letters of the Maison and rubber surrounds ankles second "detail couture" puts an end to an air silhouette and elegantly contemporary.
The bow and ribbon replacing the classic lace characteristic of this type of shoes or sequins on a range of bright and elegant colors.
The Fusion Sneakers unclassifiable collection presents five models, halfway between Futurism and haute couture for a bold, contemporary, urban and stylish women; but all with the savoir-faire of the Maison Dior and particularly urban universe of Raf Simons, currently Creative Director of the French house.