SIEMENS SHINY SHOWROOM IN AMSTERDAM - Luxury Retail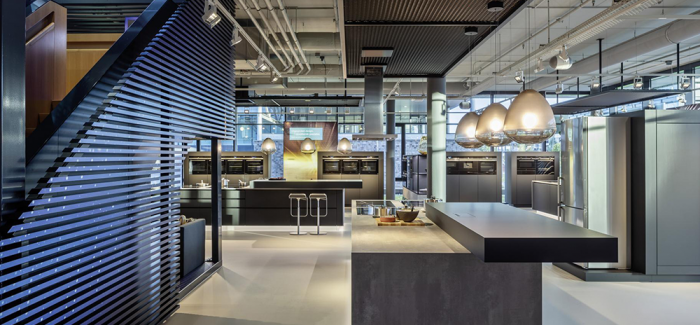 SCHMIDHUBER designed and installed the largest Siemens showroom in Europe
Siemens Showroom in Amsterdam, SCHMIDHUBER have achieved a pioneering conceptual achievement that will set a precedent in the industry.
The concept for this groundbreaking store was to design an intuitive customer journey for visitors to follow, and to communicate the Siemens product worlds as real-life events.
Visitors become part of the Siemens ecosystem, which encompasses and connects all areas of life. After all, brand experience is decisive for a customer's purchase decision. That's why the identity and values of the Siemens brand are communicated at every point: Eyecatchers and visual axes lead visitors intuitively through the product presentation.
Products are presented in context, together with a theme that customers can identify with. From living room to kitchen or utility room, all themed areas are realistically presented and can be experienced and interacted with.
The design of the products, their high technical standard and their digital control options are omnipresent, and these key topics communicate the brand identity at all levels. The appliances are presented in realistic room setups, which are made even more expansive with digital elements.
In the entrance area, the user's close connection with Siemens household appliances is brought to life as an impressive media presentation. With the Home Connect App, all devices can be controlled using a Smart Phone, allowing the user to enjoy "seamless living."
Visitors to the showroom can test all these digital functions for themselves and get a feel for what this connectivity could bring to their lives.