Restaurant Coco, the return of the roaring twenties - Luxury Retail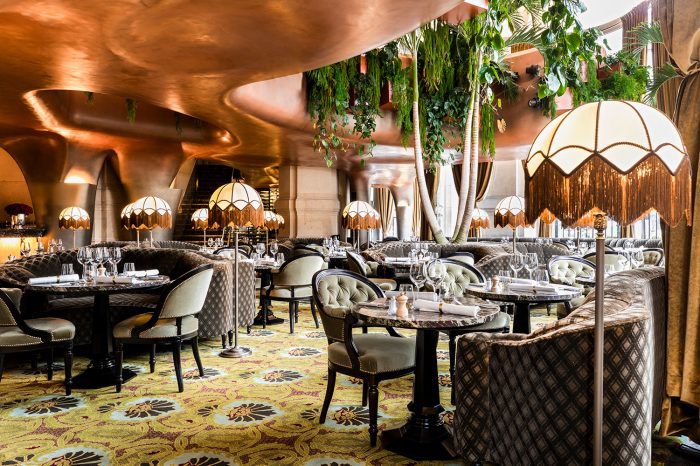 Palais Garnier Unveils Coco, a Paris Dining Destination Designed by Newcomer Corinne Sachot
The Coco restaurant takes place in the heart of a mythical address, that of the Opéra Garnier.
With close to 400 seats, including almost half of them outside on the terrace, there's a new restaurant in town in the City of Light. When the Paris Opera House, the Palais Garnier, first opened in 1875, the idea was to always have a glorious place to dine before and after the performances. Breathing new life into the historic Charles Garnier building, the restaurant Coco has recently opened its doors in an attempt to fulfill that vision. The space comes thanks to Laurent de Gourcuff, the wizard behind such hotspots as Girafe, Loulou, and now Coco, and the young designer signing her first public project, Corinne Sachot.
For this exceptional space, the interior designer Corinne Sachot imagined a unique atmosphere, both luminous and cozy. Heavy velvet armchairs, fringed lamps, printed carpet, piano bar: the atmosphere echoes the social fairs of the roaring twenties, modernized by the particular care given to the vegetal design. Here, the plants installed by Thierry Boutemy contribute as much to breathe new life into the main restaurant area as the auxiliary terrace.
"An open and intimate table"
On the menu, there are dishes adapted to the wide range of hours of the establishment, the power bowl with scrambled eggs from breakfast to pastries of the afternoon tea – churros with chocolate sauce, raspberry-pistachio cabbage, cut of giant fruit – imagined by Kevin Lacoste.
Chef Julien Chicoisne, former collaborator of Eric Fréchon. For lunch and dinner, Coco offers a range of dishes to share – California gambas panko, truffled croque-monsieur, sea bream tempura and shrimp … – as well as a fine selection of meat and fish. A favorite for the wide menu of appetizers – a dozen proposals – and the selection of savory and sweet snacks to enjoy on the go.