Real Madrid set to redevelop Santiago Bernabeu stadium - Luxury Retail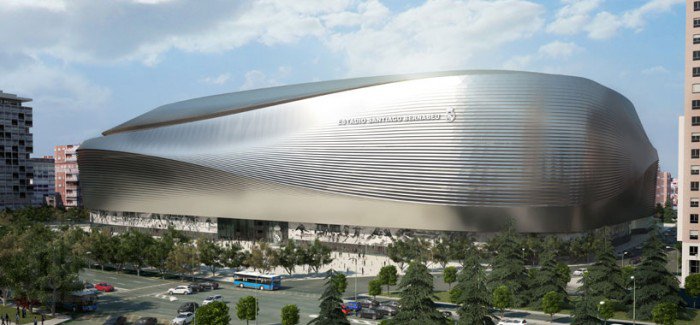 Real Madrid football club has unveiled plans which would transform their existing Santiago Bernabéu home, reestablishing the arena as a worldwide sporting landmark.
The proposed scheme will be jointly developed by german practice GMP architekten, and spanish firms L35 and ribas & ribas arquitectes. Requesting a new identifiable and energetic appearance, the brief called for the complete remodeling of the historic site. Furthermore, it was requested that the work would be carried out without interrupting the use of the current stadium.
The curved forms of the design's asymmetric steel façades reflect light, creating ever-changing patterns.
The dynamic marked lines surround the new structure, expressing an energy synonymous with athletic activity. At night an LED lighting system will lend the façade a soft glowing light which will vary in both color and intensity – radiating internal illumination. The system will convert the venue's elevation into a giant screen projecting large scale multimedia.
A newly installed retractable roof will allow the venue to be used for a wide variety of events throughout the year. The canopy will be made using a PTFE membrane in the exterior sections, with a series of slats positioned on top, adding sun protection. The covering will be transparent in the innermost sections, achieving a balance between natural light and solar protection during daylight hours. A translucent membrane will be placed on the inside to hide the stadium's structure and services, leaving a central area with a transparent finish. the result is that of a mega-structure which appears to levitate effortlessly.
The idea of excellence was another strong inspiration.
"The 'galactic heroes' of real madrid made us think of a polished gemstone, a magic skin with a changing light and color hues that actually protects a treasure', stated L35. 'Energy efficiency, integration with the surroundings and new technology are the principles upon which the design team based their innovative proposal. ?We feel incredibly proud to have met this challenge and we are convinced that the new image of the Bernabéu will stick in people's memories?"- assures Tristán López-Chicheri, managing partner at L35.
The scheme also includes the construction of a new hotel which will offer direct views of the pitch, in addition to a shopping and leisure center, an underground car park and the integration of landscaped public spaces. Construction is scheduled to begin in june 2014, with a tentative completion date scheduled for 2017.