Nobu Doha at the Four Season Hotel - Luxury Retail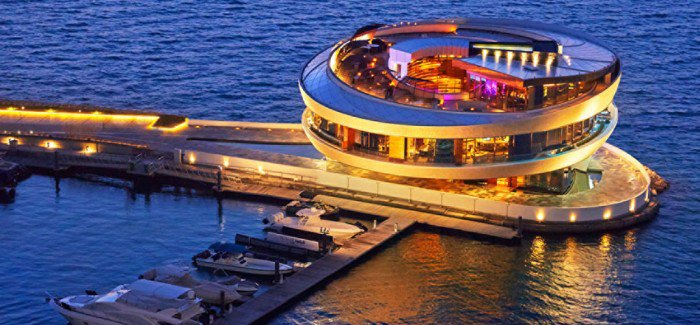 For all of you that don't know, Chef Nobuyuki Matsuhisa, 'Nobu' in short, is a celebrity chef and famous restaurant-owner with franchises all over the globe and is known for his fusion dishes. His signature is usually traditional Japanese food made with Peruvian ingredients.

The Nobu Doha prides itself on the being the biggest Nobu restaurant in the world
The tri-level restaurant is spread over 2,415 square meters and is designed in the shaped of a closed oyster shell with river stones and bronze accents on the exterior to celebrate Doha's pearl diving past. The architecture and design was done by Chef Nobu's architect David Rockwell and his group, who have collaborated with the world famous chef on numerous projects before for other Nobu restaurants in the world.
The spacious restaurant has a 134-seat interior dining area; intimate 10-seat sushi counter; two exclusive private dining rooms; a sophisticated White Pearl Bar & Lounge; a stylish Black Pearl Bar & Lounge; and a one-of-a-kind 38-seat roof top lounge that will give patrons a panoramic view of the city and the expansive Arabian Gulf.
The menu will feature a collection of the chef's signature dishes like the yellowtail sashimi with jalapeno, lobster with wasabi pepper sauce, and perhaps the most notorious recipe of them all – the black cod miso.
Nobu Doha at the Four Season Hotel, will be opening its doors for business this April.
The Four Season Hotel Doha is a prestigious property located on a private beach at Qatar's biggest city and has its own private marina. The restaurant's partnership with Chef Nobu is said to be the perfect blend of two globally well-known brands that will help redefine the culinary scene in Doha. Nobu Doha will be the second restaurant in the Middle Eastern region; the first being in Dubai's Palm Jumeirah.
To celebrate this huge successful partnership, the Four Seasons Doha is offering an extravagant 'Taste of Nobu' experience package which would include a two-night stay in a Premier Room with breakfast that overlooks the Nobu Doha and the Arabian Gulf, an exclusive Nobu Doha arrival amenity, Omakase 10-course Chef's Tasting Menu for two at Nobu Doha and a Nobu Cookbook for guests to take home.
This limited package starts at $1,275 (QAR 4650).