MINI Touring Superleggera Vision - Luxury Retail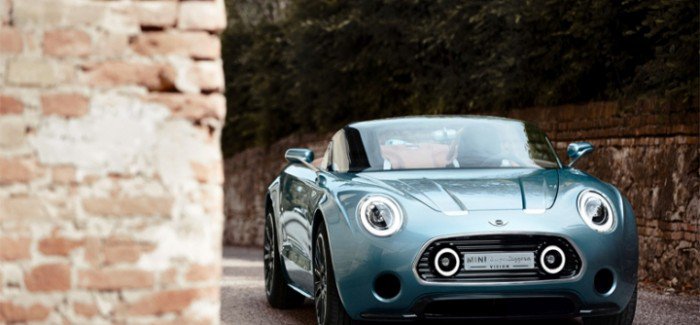 BMW's MINI brand has teamed up with Italian bespoke sports-car design company Touring Superleggera to create the MINI Superleggera Vision.
With a front end that incorporates design features found in a modern MINI car – including round headlights and a hexagonal grill – and a narrow waist more common to a sports car, the MINI Superleggera is an open-top two-seater that is finished in a bespoke metallic blue paint. Designed as a hybrid of classic British shapes, modern engineering and traditional Italian design and construction, the car was built by one of Italy's oldest bespoke car manufacturers and was mostly manufactured by hand. The body of the car is mainly constructed from large aluminium panels, with carbon fibre components and an electric drivetrain. Black chrome details and Italian leather are used in the interiors. It was made largely by hand in-house at Touring Superleggera, which has been building custom-designed and adapted car coaches since 1928.
"Anders Warming (head of MINI design) had this idea for years to create a simple, sincere sports car," Louis de Fabribeckers, head of design at Touring Superleggera, told Dezeen. "He showed me a simple sketch for two seconds then he took it back and said, 'please do something, enjoy and we will see. The quality of this car has to be on the same level of the highest quality car on the market," said de Fabribeckers. "This is for aerodynamics, for structure and for realisation of carbon parts, we use the most modern technologies. On top of that, we add something that nobody can do apart from us – a human touch, craftsmanship."
The car shares the same wide-set wheel arrangement of a standard MINI, while the curved wheel arches and long bonnet are a reference to classic sports-car design. The bonnet features the classic MINI stripes, which are embossed in a style that is also intended to "hark back to classic British roadsters of bygone days," according to a statement from the brand. At the rear, an Italian-style fin has been incorporated to add "a touch of Italian extravagance", while the lights have been designed in the form of a divided Union Jack.
"In essence MINI is a little car and is a little beautiful car," Anders Warming, head of MINI Design, told Dezeen. "What I'm missing in the world, and I hope this car answers that question, is a little beautiful roadster that you just want to drive around slowly in and enjoy the weather. The MINI Superleggera Vision elegantly perpetuates what the Classic Mini started 55 years ago: reduction to the essentials," said Warming. "Its energetic, minimalistic design embodies the dynamic essence of an automobile. At the same time it creates unique emotional beauty in combining the past and future of the automotive industry, i.e. traditional coachwork craftsmanship and modern design styling."
The car was unveiled in Italy at the Concorso d'Eleganza at Villa d'Este, one of the world's most prestigious historic car events.