Luxury boat hotel - Luxury Retail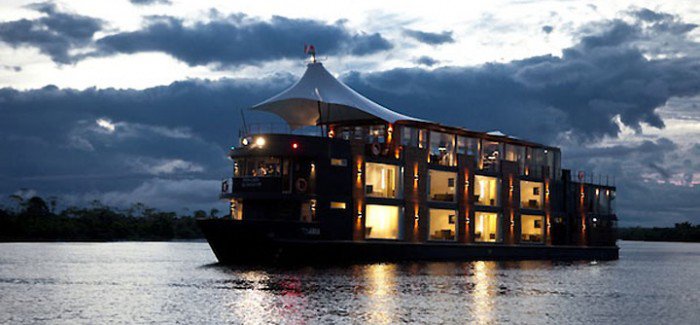 Aqua Expeditions by Jordi Puig
Peruvian architect Jordi Puig has designed a luxury mobile hotel on a 147 feet long boat which accommodates 16 fully furnished guest rooms, a lounge area, a fine dining room, gym, sun deck and an outdoor Jacuzzi.
Taking a boat ride offered by Aqua Expeditions.
Architect Puig has designed each room providing all the comforts of home. Guest rooms have been provided with large windows to enable the guests to enjoy the breathtaking views outside while cruising on the amazon waters. Each guest room has a private balcony space with a lounge chair to enjoy the morning sun with a cup of coffee. The lounge and dining area features lots of comfy seating arrangements to socialize once the sun goes down.
Aqua Expeditions offers 3,4 and 7 night packages giving the guests an unique experience into the deep Amazon forests. One can have an opportunity to explore the remote areas of the Pacaya Samiria National Reserve. The eco-luxury boat hotel also aims at supporting the local communities by providing employment and also promoting forest conservation.
By retaildesignblog.net