LOUIS VUITTON'S CHRISTMAS DELIGHT WALLETS - Luxury Retail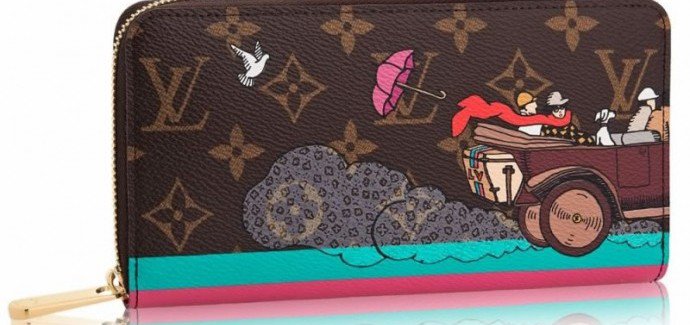 Even though we're just getting into October, it's never too early to start Christmas preps – just ask fashion conglomerate Louis Vuitton, who are all ready with designs for the festive season! December 2015 for the French fashion house is going to see a 1920s inspired Christmas animation as part of the Louis Vuitton Evasion Collection. This limited edition is part of the brand's fall/winter line.
The Christmas animation is cute yesteryears picture, on top of the staple monogramed LV print, of a getaway car driving off into the wind, with a couple and their beloved pooch; not forgetting the branded trunk tucked away in the rear that pays homage to the travel heritage brand. The picture also includes a whimsical cloud of smoke, a flying umbrella and scarf – all the signs of the start of a gorgeous winter holiday.
The print almost looks hand painted and will be on almost all the classic LV purses like the Sarah Wallet, Zippy Wallet and Coin Purse, Small Ring Agenda Cover and Mini Pochette Accessories. This fun addition to the standard designs is what LV hopes will draw holiday shoppers to pick these as festive gifts. The collection ranges from $365 – $905, and also has must-have accessories and other items under its umbrella.