Louis Vuitton pop-up space at Heathrow Airport - Luxury Retail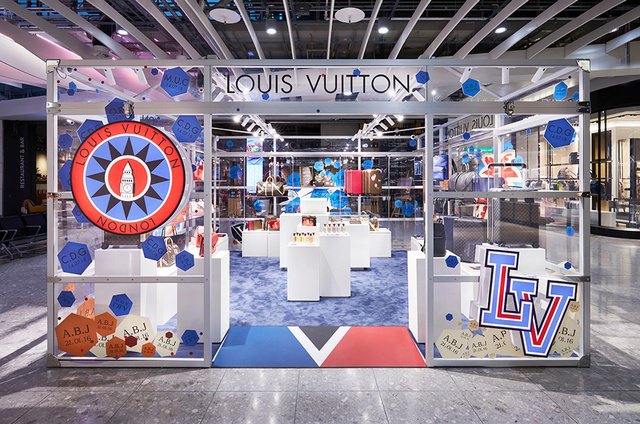 Heathrow welcomes Louis Vuitton T4 pop-up ahead of boutique opening
Louis Vuitton has unveiled a new Pop-Up outlet in Heathrow's Terminal 4 ahead of the opening of a permanent store in November 2018.
The pop-up space at Heathrow Terminal 4 is inspired by the 'My LV World Tour Collection' that pays homage to Gaston-Louis Vuitton's private collection of destination stickers.
Giant monogrammed name tags alongside stickers of famous monuments and landmarks adorn the store's see-through façade, referencing labels from the 1930s that were originally affixed to trunks and luggage to symbolise the art of travelling and exploration.
The pop-up will feature a selection of both menswear and womenswear signature leather goods and accessories, inviting Heathrow travellers to discover the world of Louis Vuitton for the first time in Terminal 4.
The centre of the space also has a range of Louis Vuitton fragrances on display, and these are, perfect for your hand luggage.