"Loubi in progress" by Christian Louboutin - Luxury Retail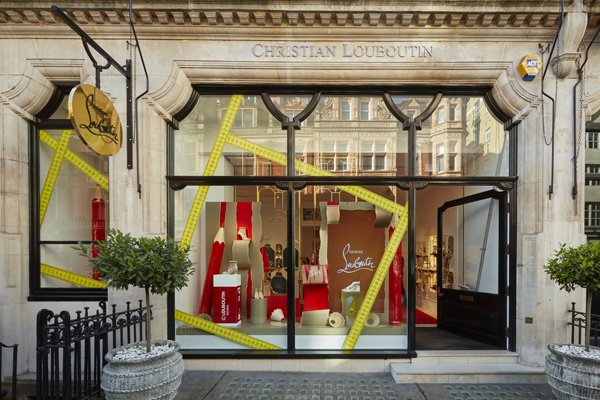 Christian Louboutin debuts "LOUBI IN PROGRESS" collection
To mark the launch of Christian Louboutin's 'Loubi In Progress' collection across stores throughout Europe and the Middle East, StudioXAG produced a larger than life window inspired by Christian's creative process.
The Loubi-in-progress window offers a larger-than-life peek into Christian Louboutin's creative process; all the things you might find strewn around the artist while he's creating.
All the things you might find strewn around the artist while he's sketching have grown to massive proportions. Glossy Christian Louboutin branded pencils are joined by gigantic erasers and lustrous pencil sharpeners. The floors of the scheme are scattered with oversized pencil sharpenings, whilst the glass is framed with bold tape measure graphics. To display product, plinths and shelving have been torn straight from the walls, made from curls of iconic Kraft paper usually seen emblazoned on the shoeboxes of Louboutin's creations.
The Loubi in Progress, a collection celebrating the creation process
For this collection, Louboutin turned the shoes inside out. Stripped naked, the new designs spotlight elements that usually go unseen: construction canvas, cork, metal pieces.
A tribute to the brand's history, these styles take inspiration from the use of kraft paper red-lined bags. Simple brown Kraft paper used to construct the brand's shopping bags and shoe boxes, which also feature a stamped white Christian Louboutin logo, is repurposed using Louboutin's signature 'Trash' technique.
The kraft paper is torn up, sometimes crumpled, cut and finally hand-assembled into collages, put on display under a glossy layer of PVC. To enhance the graphic effect of the ribbed kraft paper, a minimal color palette reiterates Louboutin essentials: metallic spikes, white logo, and red heels.