L'Occitane's experiential Toronto flagship - Luxury Retail
'Glocal' strategy for L'Occitane's experiential Toronto flagship
French skincare, beauty and fragrance brand L'Occitane has refurbished its Canadian flagship store in the Yorkdale Shopping Centre in Toronto, introducing digital and sensory elements to better fit with its wider 'glocal' retail strategy.
The store has been designed by New York agency School House, under the direction of agency founder Christopher Skinner. Features include a curved video wall and suspended 'sensorial capsure pods.'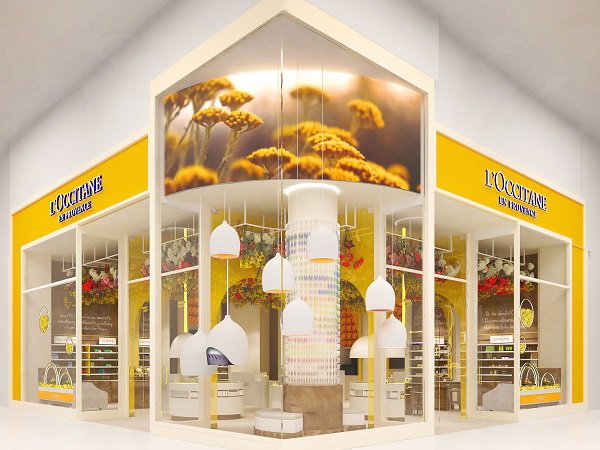 This is the second L'Occitane store designed by School House, the first being the brand's Flatiron store in New York. It seeks to offer an immersive and connected new shopping model with new standards for customer experience.
"Visiting this store will be an experience like no other. Upon entering, guests will feel a sense of wonderment – they will be transported to the lavender fields of Provence, learn about L'Occiatane's expertise in the art of extraction, and visit the land of Corsica, home of the powerful Immortelle flower," says L'Occitane North Americal vice president of concept design, construction and merchandising  Paul Blackburn. "Behind the striking external glass façade, a curved video wall immediately attracts the attention of passersby. Below this eye-catching feature is an immersive digital experience inside a pair of suspended capsules. Within each capsule, a true story unfolds before your eyes combining imagery, scent, light and sound for a truly sensorial experience."
Creative design features are used to express the elements of earth, fire, air and water, according to School House. Natural stone flooring and a botanical ceiling installation reflect natural materials, while automated rain shower sinks encourage 'test.and play' interaction with products. A radiating sun installation is set within the ceiling.
The 149 sq m (1,600 sq ft) store is one of L'Occitane's largest worldwide. The brand's 'glocal' strategy is leading to tailored customer service standards and personalised services being introduced to different markets.
Future openings will include a store on the Champs Elysee in Paris, and the largest L'Occitane store yet, on Regent Street in London. The London store is being designed by UXUS.