Limited Edition Jean-Paul Gaultier Tote Bag for amfAR - Luxury Retail
Done in red, white and blue, the nautical-inspired canvas tote bag designed by Jean Paul Gaultier is your perfect beach bag this summer.
And the best thing about, aside from sporting the famous Jean-Paul Gaultier signature, 60% of its $40 retail price is going to amfAR's life-saving research programs.
Starting June 16th, this limited edition bag will be available at Scoop's locations in Dallas, Chicago, Miami, Greenwich and Las Vegas, as well as online at www.scoopnyc.com The bags will also be available from amfAR at its online shop (shop.amfar.org) mid-summer.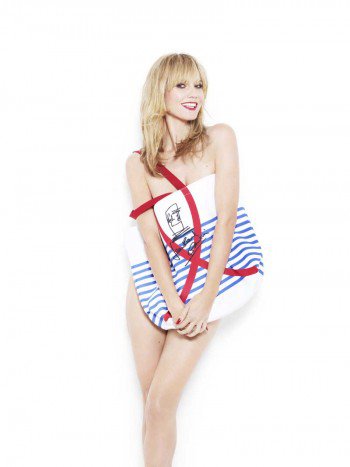 Model Heidi Klum, a longtime friend of amfAR
Has chaired countless fundraisers for the Foundation, including the most recent 21st Cinema Against AIDS event in Cannes on May 22, donated her time to model the bag for amfAR.
" Have admired amfAR and their dedication to finding a cure for HIV/AIDS through research for many years now" – said Klum.
This tote bag is a great way to make a statement – whether you're at the beach, by the pool, or at the park – and let people know that you are supporting amfAR's efforts to end the AIDS epidemic." The bag design by Gaultier, who is a longtime friend of amfAR, was originally a part of "ArtBags," a fundraising awareness campaign developed by STOP AIDS NOW!, a Netherlands-based organization that aims to expand and enhance the quality of the Dutch contribution to the AIDS response in developing countries.