Legacy, full-functional replica of a light cycle from TRON - Luxury Retail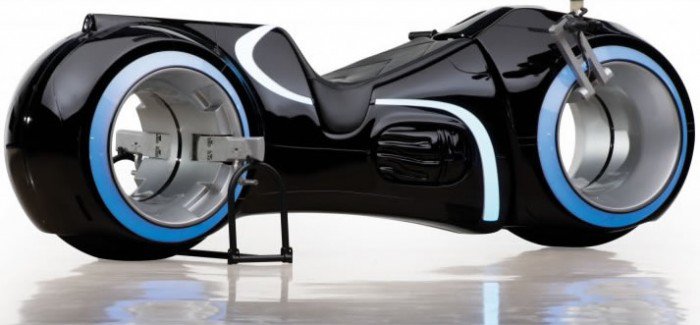 A REAL LIFE, FULLY-FUNCTIONAL REPLICA OF A LIGHT CYCLE FROM TRON: LEGACY CAN BE YOURS FOR JUST $40,000
This isn't the first working model Light Cycle we heard about; back in 2010, just after the movie was released, Parker Brothers Choppers of Florida designed and released 10 replicas of the fantastic looking motorbike. And in the following year, another company called Evolve released another street ready edition of the Tron Light cycle called the Xenon. And now, the Xenon is being put up for auction with a targeted price that could reach around $40,000.
Evolve designed the electric vehicle to be as close in reality to the TRON: Legacy Light Cycle and used an electric motor to keep it just as silent. The bike was purchased and included in a family collection (Andrews Collection) in 2011 and is said to be fully functional if not slightly used. It's going to be on sale at RM Sotheby's at the family's behest. Chirs Andrews, an artist and a businessman, who also owns the bike, says that his family only put the bike up for sale so they could streamline and reduce their overall collection of vehicles to a more "manageable" size.
The auction will commence on May 2 in Texas, and a guide price for the bike has been set at US$25,000 to $40,000 without reserve. The bike was sold at $55,000, brand new, back in 2011. It's not a One-of-a-kind model but it would nonetheless be so very cool to have it sitting in your garage. Do remember that this is a fully functional eclectic motorcycle complete with LED detailing, so you might want to keep those checkbooks handy.