"Home of Black Friday" - Luxury Retail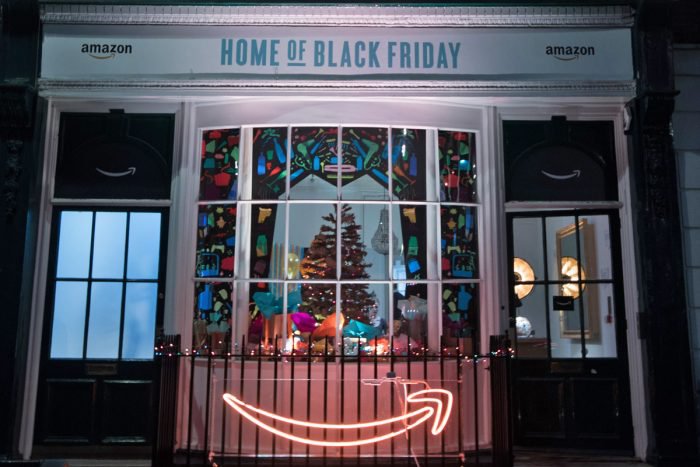 Amazon opens Home of Black Friday pop-up
Amazon has opened the doors to its 'Home of Black Friday pop-up" at 13 Soho Square in London. 
Visitors to the store will have the chance to explore more than 100 curated Black Friday deal items, play games to win great prizes and take part in workshops hosted by Amazon Handmade Artisans. The store will be open 12.30pm – 7.30pm and will run until Friday 24 November.
The 278 sq m space features more than 100 specially curated products – all available through Black Friday deals – within five uniquely themed rooms including a hand-illustrated kitchen and living area, a chic bedroom and beauty parlour, an immersive gaming and technology zone, a whimsical kids play and storytelling room, and a creative workshop space.
Customers are invited to explore the best of Amazon's Black Friday Sale and Amazon Prime within the space and join in the fun with creative workshops, hundreds of prize giveaways, product demonstrations and special guest appearances. These include a makeup tutorial with YouTube star and beauty expert Lottie Tomlinson; cooking demonstration courtesy of TV chef Gizzi Erskine; and masterclasses and cocktail tastings including craft cocktail sampling from Absolut.
Bargain hunters will also be treated to shopping advice from gifting expert and founder of The Retail Champion, Clare Bailey, who will be on hand each day to help customers get the most out of Black Friday.
Customers will be able to shop the curated products on display using the scan and buy function within the Amazon App. A dedicated Prime Now delivery area will be in the lobby at the venue, allowing shoppers to have their Black Friday deal purchases available on Prime Now delivered to the pop up within two hours.
'We want to make this year's Black Friday a fantastic experience for not only our customers but also for the UK based sellers using Amazon Marketplace to reach customers around the world,' says Doug Gurr, country manager, Amazon.co.uk. 'Our Home of Black Friday experience brings these two together as we are showcasing some of our biggest and best Black Friday deals – which will be shoppable through our app – as well as offering some fantastic sampling experiences and interactive workshops with some of our Marketplace and Handmade sellers. We really hope visitors to the pop up will have a great time and make a good start on their Christmas shopping.