Hermes' New Pocket Watch - Luxury Retail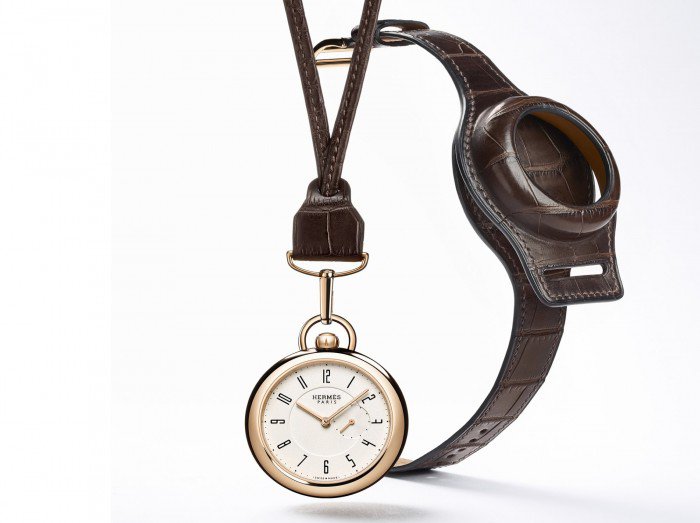 Hermes' New Pocket Watch Transforms In To A Wristwatch With Alligator
Turning back the clock, but with a modern twist, has become the trend of the luxury houses to woo discerning clients these days. In 2012, Hermes had launched  "In The Pocket", based on the design of the watch received by Jacqueline Hermès in 1912 as a gift from her father.
It was an unusual pocket watch with a leather holder to be worn on the wrist. The French maison of luxury goods has now issued a second piece in the series with a rose gold watch clad in an alligator exterior.
Originally designed to help the young horsewoman ride without having to attach her watch to her clothing or slip it into her pocket, the watch featured a leather strap that was designed to snugly wrap around the watch for complete protection.
The rose gold case of the new In The Pocket watch contains a silver dial with baton-type hands that sweep over pared-down numerals. A small seconds subdial is located at 3 o'clock. Powered by an in-house H1837 automatic movement with a 50-hour power reserve, the watch's oscillating weight is adorned with the brand's signature "sprinkling of Hs" motif.
A lot of work goes behind the alligator strap that aids in the effortless transformation of the watch from pocket to wrist. The strap is composed of two longer and shorter sections: the plain strap end and the buckle strap end, hand crafted and sewn using the saddle stitching technique in the leather-making workshops of La Montre Hermès in Switzerland. These two parts are composed of three layers of leather: alligator; cow leather for sturdiness; and a Zermatt calfskin lining. The buckle strap end is perforated to free up the spaces that will reveal the dial and through which the plain strap end and the crown will pass.
The latest 178-piece limited edition watch is also designed to be worn as a traditional pocket watch or a wristwatch in true Hermes style.