Harrods Christmas Grotto and Disney Cafe - Luxury Retail
Christmas Grotto and Disney Cafe for 2015
SFD has continued its work with Harrods by manufacturing and installing the retailer's Christmas Grotto and Disney Cafe for 2015.
The fourth floor has been transformed into a wonderland for both children and adults to enjoy and be enchanted by the magic of Christmas.
In collaboration with JustSo, the grotto was manufactured incorporating a number of electronic interactive elements to truly make this Christmas experience special and memorable for all, taking visitors on a journey through different rooms with activities for the children.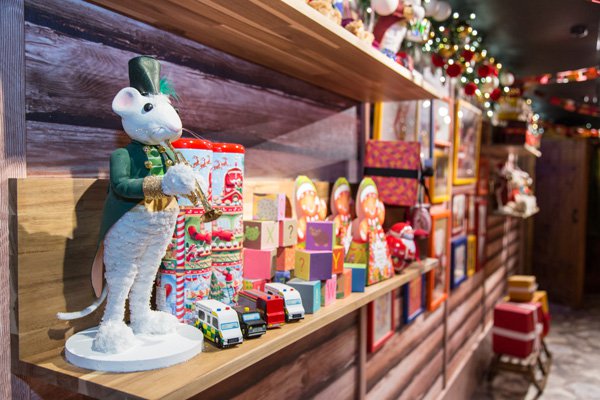 There are a number of scenes to explore including a traditional Dickensian Street with shop windows featuring Harrods' famous mouse, Peter Pumpernickel and his friends, a Christmas sweet shop and the famous Harrods Christmas teddy bear all shown in the windows. To engage and interact with the children, a Naughty-or-Nice scale identifies if they have been good enough to receive a Christmas present, or if in fact the adult has been too naughty.
An oversized interactive piano built into the floor allows children to play music when they dance on it, again bringing fun and laughter to this special trip. The journey ends with a visit to Father Christmas's toy workshop, meeting Santa himself in his winter cabin where he gives children an early Christmas present to unwrap or save for Christmas Day.
SFD also designed, manufactured and installed the Disney Christmas Cafe on the fourth floor. The brief was to create an area for families to dine in an enchanting environment featuring an abundance of Disney toys and characters decorating the walls. A train track runs around the top of the ceiling, which features various Disney characters driving the trains including Woody and Jessie from Toy Story. The cafe chairs were also adapted to continue the Disney theme with the Mickey Mouse silhouette adorning the back of each chair.
There is a wall of iconic red postboxes for the children to post their Christmas wishlist to Father Christmas.
The Christmas grotto theme continues into the cafe with the cogs surrounding the illuminated Big Ben clock, which emulates the workshop theme and brings the otherwise dead space to life. The Disney cafe offers buffet dining for children and adults and can be enjoyed throughout the festive period as well as after visiting Father Christmas at the grotto on the same floor.