HALCYON DAYS SS15 - Luxury Retail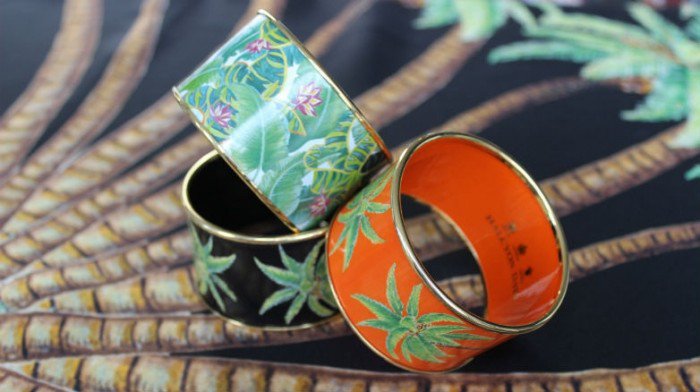 The perfect finishing touches for the summer months
In recent years Halcyon Days has undergone somewhat of a transformation. Originally famed for their trinket boxes and other charming objet d'art, the five decades of royal warrants holding designer took the London fashion world by storm with the introduction of their jewellery range. Headed by Made in Chelsea star Rosie Fortescue, the bangles and cuffs soon became a must have on every fashionistas list, and with the introduction of their SS15 range, this doesn't appear to change anytime soon.
Finished in either 18ct gold plating or using the same complex enamelling process that they use on their trinket boxes, Halcyon Day's new range of jewellery is all about livening up a look with a bold flash of colour. Below we have chosen a selection of our favourite pieces from the new range which epitomise the exotic spirit and stylish direction that the brand has taken for the summer months.
GIRAFFE PRINT PENDANT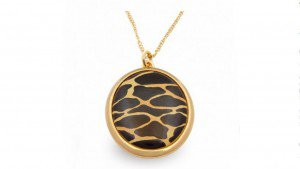 Playing on the very current trend for safari chic, Halcyon Days' Giraffe Pendant is a demure way to embrace the trend without looking as if you're about to go trekking through the deepest darkest rainforests of Africa. Handcrafted by a team of highly skilled artisans, every individual pendant goes through a painstaking process of heating and cooling. Each time thin layers of enamel are applied (sometimes up to five!) to ensure that the piece is flawlessly smooth and ready to paint.
After completing this first stage, the artists at Halcyon Days decorate the piece with meticulous hand-painted brushstrokes which can often take a few days.  Due to this process, each of the pendants has their own unique character and no two ever look completely identical.
PALM ORANGE CUFF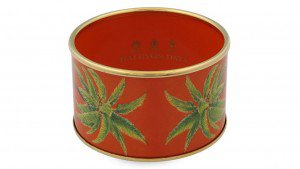 One of the key pieces in Halcyon Days' new Palm Range, this bright orange cuff is alive with the spirit of summer. Created using a generation-old enamelling technique, one which Halcyon Days are the only company to still use, the cuff exemplifies the beauty of using enamel as the focal point of a jewellery piece with effortless aplomb.
Swaying palm fronds and sunshine orange, the piece is everything that the summer stands for, perfect for adding a taste of tropical style to any summer outfit. Try matching yours with summer dresses during the day or even with elegant black evening looks for that tantalising pop of colour.
TENNIS RACKET BANGLE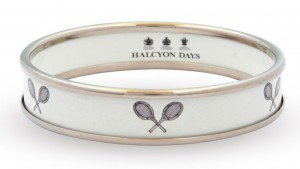 Slightly more slim-lined than the majority of the new collection, the quintessentially English feel of this particular bangle is absolutely charming. Formed from brass coated with a beautiful silvery palladium, the hand painted enamel of this piece is rather uncomplicated, simply a plain white background with a delicate tennis racket decal.
Due to the understated design of the piece, the tennis racket bangle is ideal for adding a bit of British spirit to your casual looks, and makes the ideal candidate for some Wimbledon jewellery.
ELEPHANT BANGLE IN RED & GOLD
Zooming across the globe to the more tropical climes of India, this red and gold elephant bangle is a playful way to brighten up your summer wardrobe and add some ornate detailing to your daily outfits. Featuring a herd of ornamental elephants walking in tow, the bangle's on-trend colour scheme and exotic vibe is perfect for bringing a taste of Asia over to our rather less colourful shores.
Created over 23 stages of production, the bangle is plated in 18ct gold and finished in highly polished, hand-painted enamel for a chic glossy finish. Fitted with a hinged clasp for ease of wear.
YELLOW SUNFLOWERS BANGLE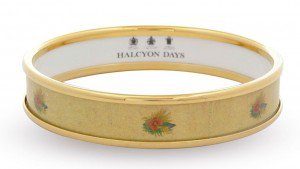 As a company who have never shied away from a quaint floral motif, it only makes sense that Halcyon Days have welcomed the sunflower into their SS15 jewellery collection. An endearing piece that has an almost vintage vibe, the somewhat Van Gogh-inspired painted portrayal of the sunflower on a pale sunshine yellow seems taken from another time.
However, fringed with gold and finished with one of Halcyon Days' iconic hinges for ease, the piece has a distinctly modern side which allows it to work with a number of different ensembles.