"Gucci Garden" - Luxury Retail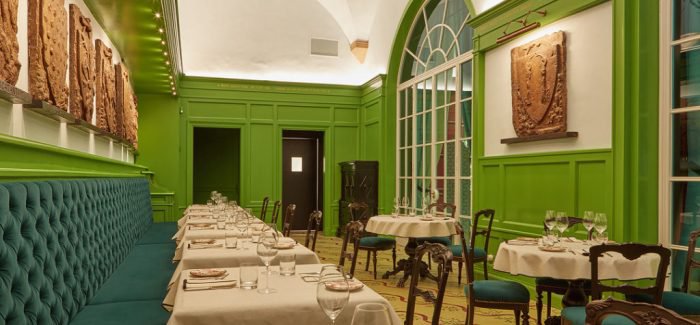 Gucci Opens Michelin-Star Restaurant in Florence
Italian fashion house Gucci is diving into a new and delicious venture—fine dining. Gucci Osteria, a 50-seat restaurant opened its doors this week as a part of Gucci Garden, a new museum-style concept store in Florence, Italy.
t will be located on the ground floor alongside the bazaar-like retail space where guests can indulge in both fashion and food.
The Gucci Garden was designed by creative director Alessandro Michele who took a modern take on a museum and includes clothing, art, video installations and a boutique. It's the perfect marriage between vintage and modern Gucci as the brand has transformed over the years. The concept store doesn't actually have a garden but it carries metaphorical meaning inspired by Michele's fondness for incorporating nature into his designs.
"The garden is real, but it belongs above all to the mind, populated with plants and animals: like the snake, which slips in everywhere, and in a sense, symbolizes a perpetual beginning and a perpetual return," said Michele in a press statement.
The all-day restaurant will serve up a Michelin Star dining experience through an entirely new menu created by Massimo Bottura exclusively for Gucci. Bottura is internationally famed for his three-Michelin-star Osteria Francescana, located in the heart of Modena.
The restaurant will serve iconic Italian dishes such Parmigiano Reggiano tortellini and mushroom risotto as well as ones with a contemporary twist like pork belly buns. The prices are expected to be around €20 to €30 euros per dish.
While pasta hardly comes to mind when you think of the eccentric fashion brand, it's become a growing trend for luxury fashion labels such as Armani, Christian Dior and Ralph Lauren to dive into the world of food and break the barrier in between.
Offering more than just fashion can attract even more consumers in an age where everyone is searching for Instagram-worthy places to dine. Expanding their signature styles into a whole new market is something no one does better than these international luxury brands.
Some of the best known luxury fashion restaurants include Bar Luce by Prada in Milan, Armani Cafe in Dubai, Ralph Lauren's restaurant Ralph's in Paris, and Beige in the Chanel Ginza building in Tokyo. As the list keeps growing and expanding we're curious to see which luxury brand will dive into the food industry next and what their take on haute cuisine will be.