Glass-bottomed room at Bambu Inda Hotel - Luxury Retail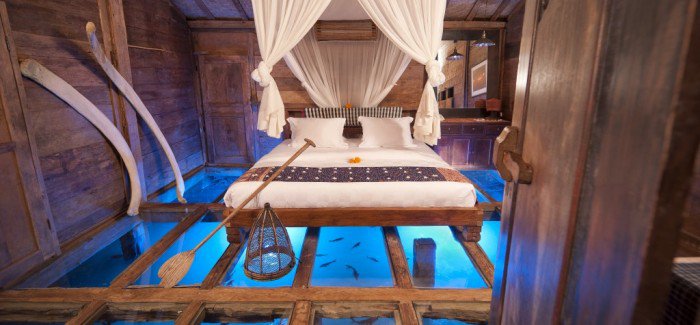 Located at the Bambu Inda Hotel on the Sayan Ridge, it was relocated to Bali and restored in 2005 by owners John Hardy, a Canadian-born jewelry maker and his American wife Cynthia Hardy. And offers views of the Ayung River, a Hindu temple and Mt. Batu Kau's volcanic edges.
Inside, it features a bedroom with glass floor panels. Accenting the activity below is its rustic, teakwood ambience with lamps made from authentic shrimp baskets and a random boat paddle and fishing net by the foot of the mosquito-netted bed. The suite is designed so to create a "fishing village experience". When in a Bali village, it'd only be fair to do as the Balinese there do and experience how they live as well.
The place sits by a fresh water fountain that feeds its natural pool. One can even enjoy nature in its true glory within the bathroom that's kitted with an open air shower and glass-tiled roof. And when you're done living the rural life, you can head to the Hanging Gardens in Ubud.