Eskisehir Spa & Thermal Hotel - Luxury Retail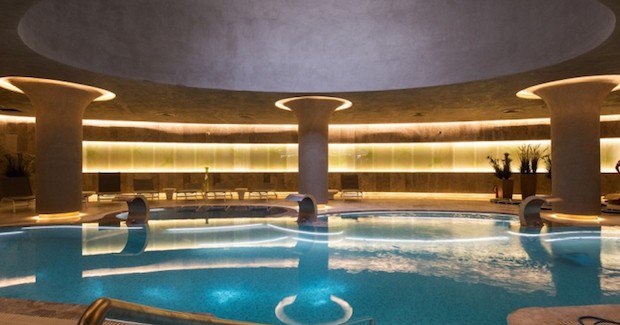 The project was highly influenced and inspired from Eskisehir's thermal water resources
Signed by GAD Architecture Firm, this property located in the spa region Odunpazar? largely able to highlight the Spa side and thalassotherapy.
For years, the locals have believed that the hot water had healing features and it would improve the health of anyone who rested in the water for a while; which ultimately called for an increase in the attention the local and foreigner visitors paid in the region. This rapid increase in tourism potential pointed to a need for a luxurious accommodation for both Turkish and foreign tourists.
The project is a modern interpretation of Odunpazari's vernacular architecture and existing historical texture
The site plan is formed after a careful consideration of the existing trees' positions in order to minimise the damage to the site. The complex includes a spa and wellness centre in the middle, and accommodation units on the perimeter. There is also a hotel, a wedding venue, and guest bungalows located in a hillside pine forest.
The project site makes a perfect thermal spa location since it is extremely close to the geothermal water source. The spa and wellness centre is buried in the ground in order to benefit from the land's geothermal features. The roof of the underground structure has the pools, pool decks and sunbath terrace. The domes placed in the pools work as roof-lights to allow natural daylight inside. The penetrating filtered light in the spa creates the illusion of a traditional hamam under a dome.
The resort is built around the spa, which comprises the core and centre of the building. It is no coincidence that Eskisehir Spa & Thermal Hotel is located here: The idea of the Eskisehir Spa & Thermal Hotel was conceived to use this natural resource for spa. The spa is coupled with earth, taking advantage of the site's geothermal features. The hotel is tiered following the natural topography and revolves around the spa in order to provide easy access to all of the hotel guests. The wedding venue is designed as a separate function from the hotel.
The project touches on the sustainable design aspects by making use of wind and solar energy. The geothermal energy is not used only in the spas, but also for the space heating during cold seasons, via a geothermal heat pump system.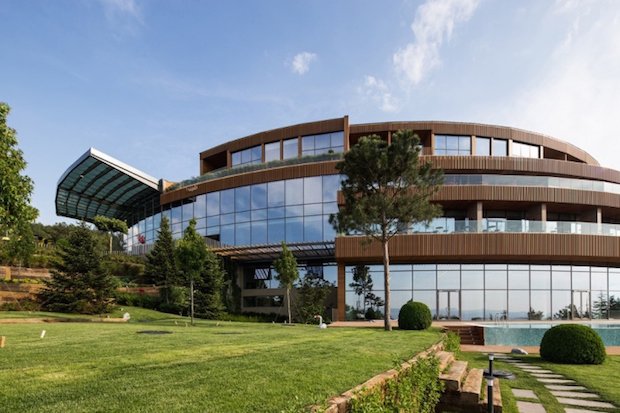 The property embraces the fundamental waste mitigation concept of "Reduce, Reuse, Recycle." Any kind of recyclables are collected throughout the complex, including cardboard, plastic bottles, glass bottles, steel and aluminium cans, office paper, newspaper, fluorescent light bulbs, cooking oil, toner cartridges, batteries, pallets and crates.