"Coralarium" underwater art installation - Luxury Retail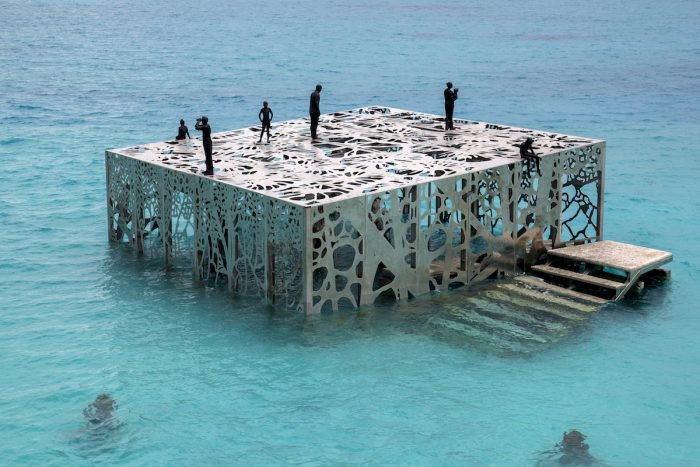 Coralarium: The first ever underwater art installation that has opened at the Fairmont Maldivies
Coralarium: A unique underwater installation created by revered artist Jason deCaires Taylor. The awe-inspiring structure stands tall and submerged all at once and aims to provide a one-of-its-kind experience to visitors.
The Coralarium is situated within the pristine premise of Fairmont Sirru Fen Fushi, a luxury island resort in the Maldives. It measures about 20-ft-tall and is made up of a 200-ton stainless steel cube, further encircled with a 10-ft median tide along its façade. To reach the unbelievable structure, visitors need to snorkel or swim 500 ft, along a breathtaking underwater coral pavement. The main building can be entered via a submerged staircase that arises just above the water line to an elevated viewing platform.
Inside the Coralarium, one can access sculptural works created from life casts of real people, within an organic and well-engineered matrix of sorts. Commenting on the three-tiered wonder, Taylor stated,
"It (the Coralarium) exists in three different elements, A set of sculptures that interact with the sky and the atmosphere. There's a set of works that are in the tidal area. They live both above the water and below the water. And then there a set of submerged works. The idea is that it's about taking all the elements of our planet and showing that everything is connected."
An underwater art gallery cannot get any better than this!