Citroën Ami One Concept - Luxury Retail
Citroën Celebrates Its 100th Anniversary with the All-Electric Ami One Concept
Citroën's latest vehicle – the Ami One Concept – unveiled at the 2019 Geneva Motor Show checks off on all marks as a characteristically French take on urban mobility outfitted for a generation acclimated to on-demand rental vehicles.
Designed as a 2-seat, all-electric urban mobility vehicle, the quirky micro machine not only forgoes the combustion engine, but also is designed to be used without a driver's license as an alternative to public transport (bus, tramway, metro) and other individual, two-wheeler means of transport such as bikes, scooters and kick scooters.
Similar to popular app-accessible, on-demand urban scooters, the Ami One Concept's doors lock and unlock via a QR code via smartphone; inside, a dedicated space outfitted with an induction charging area offers passengers a place to keep their phones, while also connecting the vehicles features and comfort options through the user's own device (including voice-activated interactions to ensure hands-on safety).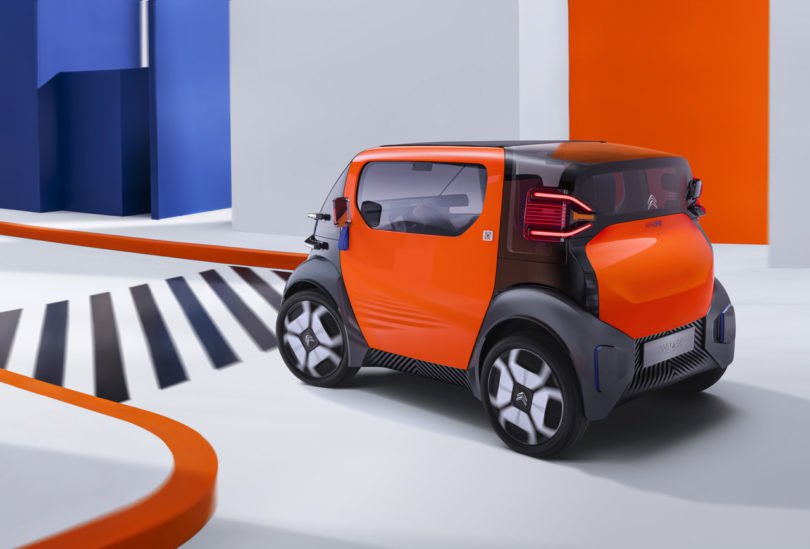 Building upon the popular convenience of on-demand rentals, Citroen envisions the Ami One Concept as a flexible use option for anyone seeking a vehicle, whether it be a 5-minute drive down to the market up to a 5-year long term lease.
-5 minutes or 5 hours: the mobility object is made available at a given location for a given period of time through a car-sharing offer operated by the Free2Move brand. Using the app dedicated to new forms of mobility, customers can choose their Ami One Concept in a few clicks.
-5 days: The mobility object is available in the form of an easy-access short-term rental offer. The customer simply reserves the vehicle on line at Citroën's Rent&Smile site.
-5 months: Commitment-free access for a shorter period of time than "conventional" ownership.
-5 years: The mobility object is also available as part of a five-year long-term leasing option with battery, maintenance and parking included in the monthly payment; With the 100% online purchasing journey, customers can choose the delivery location, be it at their home or the closest point of sale.
Reinforcing the lifestyle angle of the concept, Citroen's pug-faced, all-electric ride is also complemented by a whole slew of lifestyle accessories designed in partnership with French leather goods designer, Damien Béal, including exclusive luggage created to complement the concept's form and colorway, a backpack sized to fit in the storage space in front of the passenger, a shopping basket, and a cylinder-shaped travel bag.
Perhaps best of all, because of its size and the speed limitations inherent to its specifications, the Ami One Concept falls within a category of vehicle like the moped that does not require users to have a license. Anyone 16 or older can use the vehicle sans license (at least in Europe), offering a safer and more comfortable option to two-wheeled vehicles sharing the road with full-sized automobiles. If reception is strong, the possibility of production of the Citroën's concept is slated between anywhere between 2020 and 2025.