Chanel Coco Lab Pop-Up - Luxury Retail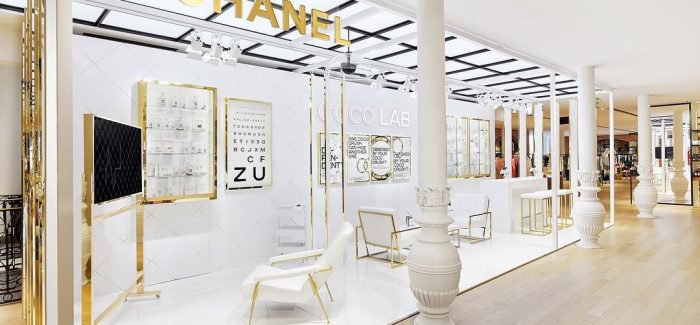 Chanel Opens Coco Crush Pop-Up at Le Bon Marché
The temporary stand, dubbed Coco Lab, features a mock doctor who prescribes jewelry as a cure for shoppers obsessed with the collection.
Chanel believes it has a cure for women obsessed with its bestselling jewelry line: The French luxury house has opened a pop-up space at the Paris department store Le Bon Marché where the collection is presented in a playful format dubbed Coco Lab.
Shoppers are greeted by a mock doctor who runs a series of tests before filling out a prescription of rings, bracelets, pendants and earrings for the "patient" to try on. The stand, located on the first floor of the store, will remain open until June 24, with the fake medic on call between 2 p.m. and 7 p.m. from Friday to Sunday.
Launched initially as a capsule collection on Net-a-porter.com in 2015, the Coco Crush collection has since become a pillar of the brand's jewelry offer, said Frédéric Grangié, head of the house's watch and jewelry division.
"It's important to maintain a freedom of tone," he said. "This concept, which is very joyful and unusual, is a way of showing that you can develop an iconic line like Coco Crush in a way that is both serious and humorous."

Catherine Newey, buying director at Le Bon Marché, said that having the space on the first floor, alongside a selection of ready-to-wear and cosmetics, was designed to surprise the customer. "It's disruptive, which makes the experience even more memorable," she said.

"Experience is part of Le Bon Marché's DNA, and this is a very good demonstration of the kind of experience that creates a bond with our customers, who don't necessarily come just to buy, but also to discover, learn and have fun," Newey added.
Prices start at 2,150 euros for a quilted motif ring in yellow gold and run up to 120,000 euros for a diamond-encrusted cuff bracelet. Grangié noted that a lot of women purchase the jewels for themselves.
"I think it's a distinctive characteristic of Chanel in general, and of this collection in particular. Women who reflect the spirit of the house buy a lot for themselves, and that's true of all our jewelry offer, including high jewelry. That's very interesting," he said.